Chalfont, PA – February 2, 2014, MATCOR, Inc. the trusted full-service provider of proprietary cathodic protection products, systems and corrosion engineering solutions, announces the company's participation in the 15th Annual Middle East Corrosion Conference and Exhibition in Bahrain from February 2th through 5th.
"MATCOR has a long history of providing proprietary anode solutions to clients around the world including North Africa, the Middle East and Asia," said Douglas Fastuca, president of MATCOR. "We are pleased to be sending a representative to participate in this region's largest corrosion conference."
MATCOR is a respected innovator in the development of impressed current cathodic protection anode systems and has received numerous patents for its custom anode solutions that protect buried gas and water pipelines, above ground storage tanks, near shore marine structures including piers, docks and sheet pile walls, and reinforcing steel in concrete structures.  Featured as one of Forbes' Magazine's fastest growing small companies, MATCOR continues to expand its presence in markets globally while maintaining its leadership position as an industry innovator.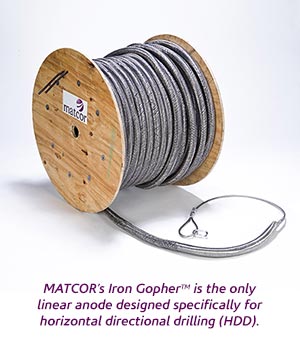 MATCOR's most recent innovation is the patented Iron Gopher®, the industry's first linear anode product developed specifically for horizontal directional drilling (HDD) installation.  For further technical and product information about Iron Gopher or any of MATCOR's innovative cathodic protection products, or to contact your MATCOR Account Manager, visit www.matcor.com or call (US. & Canada) 1 800-215-4362 (Worldwide) +1-215-348-2974.
ABOUT MATCOR
MATCOR is a full-service, ISO 9001:2008 certified provider of customized cathodic protection systems to the oil & gas, power, water and other infrastructures industries. Cathodic Protection is a technique used to control the corrosion of a metal surface through the application of electric current. MATCOR has an array of proprietary cathodic protection products and systems combined with high-quality corrosion engineering, installation and maintenance services.
In business for 40 years, MATCOR is considered the technology leader in the cathodic protection and corrosion engineering fields. MATCOR is headquartered in Chalfont, PA, has a service office in Houston, TX and recently established a presence in Ahmedabad, India. The company provides turnkey services throughout the United States and has a growing list of international distributors. MATCOR has been named to the Inc. 5,000 list of fastest growing companies in 2011, 2012 and 2013.