As a result of increased drilling speeds, companies operating horizontal directional drilling sites in the Marcellus Shale region are drilling bigger wells more efficiently and affordably, and are producing more natural gas than ever before.
"Since I came up here three years ago, it's 200 percent better," said David Dewberry, who manages a Lycoming County drilling site in Pennsylvania's Loyalsock State Forest for Seneca Resources Corporation, the exploration and production segment of Houston-based National Fuel Gas Company.
When Dewberry started working in Pennsylvania's Marcellus Shale in 2010, the oil and gas industry veteran said it took him more than a month to drill a natural gas well. However, improvements to horizontal directional drilling equipment and processes have cut drilling times significantly.
According to Dewberry, a new 2 1/2-mile well project that began on Dec. 4 will be completed in just 16 days. When that's done, his rig will crawl 20 feet and begin drilling another well, in an assembly-line fashion known as pad drilling, until nine wells are completed on the site.
"We've become so much more efficient," Dewberry said.
Greater drilling efficiency in the Marcellus Shale region has not only yielded longer horizontal wells in shorter times, it's meant fewer rigs are required to meet, and even exceed, the previous pace of drilling and natural gas extraction. In fact, the U.S. Energy Information Administration has officially recognized that drill-rig counts are an obsolete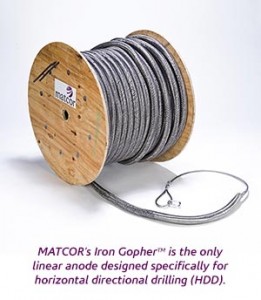 measure of output. The administration now relies on drilling speed and production as a way to quantify efficiency.
Of course, an increase in drilling efficiency means more wells are being constructed. And that means companies performing horizontal directional drilling need to invest more in cathodic protection for wells and pipelines, according to Nick Judd, director of field operations for MATCOR, a Pennsylvania-based company that specializes in cathodic protection products and services.
"The need for managing and preventing corrosion is growing alongside the rush of new wells being drilled in the Marcellus Shale," Judd said. "The process of hydraulic fracturing used to access the Marcellus Shale requires miles and miles of steel pipeline and every inch of it is subject to corrosion, which can affect the safety, performance, and efficiency of the natural gas well. In addition to wells and pipelines, the transfer piping associated with the gathering fields also requires corrosion prevention. An effective cathodic protection system extends beyond the well casing to include all piping from the casing of the well, to the piping in the pump station, the transfer piping and further downstream."
"Impressed current anodes and linear anodes for cathodic protection, like our Iron Gopher™, are invaluable tools for horizontal directional drilling companies," Judd said. "Controlling costs and mitigating issues associated with well and pipeline corrosion are critical factors for insuring the profitability goals of any drilling project."
Further Reading
"Marcellus Shale Drilling Becomes More Efficient," The Philadelphia Inquirer, December 16, 2013.