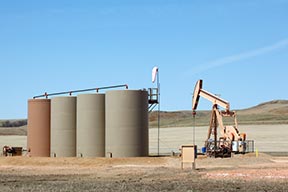 After eight years of extensive oil exploration to define the Bakken formation boundaries, oil production companies are ramping up drilling operations to "harvest" the Bakken oil formation.
There are currently more than 10,000 producing wells in North Dakota, with the majority in the Bakken region. The expansion of oil production has grown at an exponential rate and the area will soon be producing 1 million barrels a day.
While there's currently a well located on nearly all of 8,000 spacing units, there remains plenty of opportunity to increase well density in the region. In 2013, the permit applications were limited to four wells on a single 1,280 acre unit, but the maximum is expected to increase from eight to 20 wells per unit, depending on the local geology.
As oil companies drilling in the Bakken formation continue to increase well density, the region could see another phase of this oil boom.
"The Bakken area has enjoyed great success over the last decade, and with more opportunities for companies drilling in the Bakken oil field, it's vital that they protect their assets," said Glenn Shreffler, executive vice president, engineering at MATCOR.
"Protecting future investments from the devastation caused by the corrosion of pipelines and storage tanks is paramount as the Bakken region continues to see expansion of oil production," said Shreffler. "Cathodic protection is among the most cost effective means and efficient ways to halt corrosion activity."
In business for almost 40 years, MATCOR specializes in providing customized corrosion engineering and cathodic protection systems to oil and gas industries nationwide.
"Oil lands claimed, the focus shifts now to 'harvesting it," The Bismarck Tribune, February 25, 2014.