Chalfont, PA – April 28, 2014, MATCOR, Inc., the trusted full-service provider of proprietary cathodic protection products, systems and corrosion engineering solutions, announces that Ted Huck, Vice President, will present Impressed Current Linear Anode Applications in Congested Plant Environments at the first NACE European Corrosion Conference & Expo, taking place May 14-16 at Monastery of San Lorenzo Del Escorial – a UNESCO World Heritage Site outside of Madrid, Spain.
Mr. Huck's presentation will take place on Thursday, May 15, 2014 from 10:00 am – 10:30 am in Room A. Visitors can view the full conference agenda here.
Cathodic protection in congested underground environments such as those commonly found in plant environments can present challenges for cathodic protection designers and engineers. This is especially problematic when trying to design around plant earthing systems, which can render a cathodic protection system ineffective when electrically tied in to the structures that are intended to be protected. Cathodic protection system designs based on isolating piping and other structures from the plant earthing systems require constant testing over the entire life of the cathodic protection system – often not a practical strategy. One very effective strategy is the use of linear anodes placed in parallel to the piping systems during construction. These closely coupled low output systems can effectively provide cathodic protection even in the presence of significant plant earthing systems.
Mr. Huck's presentation provides details on the proper application of linear anodes for these applications.
"We are very pleased to participate as a presenter at the inaugural NACE International European Corrosion Conference," said Douglas Fastuca, president of MATCOR. "We have a solid track record of performance in Europe and view the European market as strategically important for MATCOR's growth plans in cathodic protection and corrosion engineering."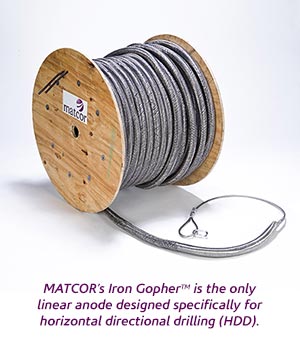 MATCOR's most recent innovation is the patented Iron Gopher®, the industry's first linear anode product developed specifically for horizontal directional drilling (HDD) installation.  For further technical and product information about Iron Gopher or any of MATCOR's innovative cathodic protection products, or to contact your MATCOR Account Manager, visit www.matcor.com or call (US. & Canada) 1 800-215-4362 (Worldwide) +1-215-348-2974.
ABOUT MATCOR
MATCOR is a full-service, ISO 9001:2008 certified provider of customized cathodic protection systems to the oil & gas, power, water and other infrastructures industries. Cathodic Protection is a technique used to control the corrosion of a metal surface through the application of electric current. MATCOR has an array of proprietary cathodic protection products and systems combined with high-quality corrosion engineering, installation and maintenance services.
In business for 40 years, MATCOR is considered the technology leader in the cathodic protection and corrosion engineering fields. MATCOR is headquartered in Chalfont, PA, has a service office in Houston, TX and recently established a presence in Ahmedabad, India. The company provides turnkey services throughout the United States and has a growing list of international distributors. MATCOR has been named to the Inc. 5,000 list of fastest growing companies in 2011, 2012 and 2013.