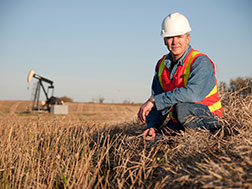 Cumulative Bakken oil production has reached one billion barrels, according to recently released data.
The data, by IHS, a global information company, revealed that the Bakken oil field found in North Dakota and Montana reached the one-billion-barrel milestone of light, sweet crude oil during the first quarter of 2014.
Much of the oil taken from the Bakken play has been produced recently. In fact, two-thirds of the cumulative Bakken oil production was reached in the last three years, according to Jack Stark, the senior vice president of exploration for Continental Resources, the largest leaseholder and producer in the Bakken oil shale region.
"This milestone validates the immense potential of the Bakken field and development is just beginning," Stark said in a news release.
The Bakken oil field appears to be the largest oil field discovered in the world in the last 40 years. The discovery and production of oil fields like the Bakken has been driven in many respects by the emergence of horizontal drilling technology.
"As a result, the need for pipeline protection has never been greater," said Chris Sheldon, utilities practice lead for MATCOR, a Pennsylvania-based company that specializes in cathodic protection products and corrosion engineering services for oil and gas pipelines and other infrastructure industries.
"With all of the horizontal drilling and the massive production coming from plays like the Bakken oil field, pipeline integrity management has never been more important," Sheldon said. "These pipelines represent a huge investment by producers, who need to protect that investment from corrosion."
"Oil producers in the Bakken oil field and plays all over the world look to MATCOR to provide the best-in-class cathodic protection and corrosion engineering to secure all their pipeline investments for years to come," Sheldon said.
"Bakken Field Produces First Billion Barrels of Oil," press release, April 28, 2014.
About MATCOR
MATCOR is a full-service, ISO 9001:2008 certified provider of customized cathodic protection systems to the oil & gas, power, water/wastewater, and other infrastructures industries. Cathodic protection is a technique used to control the corrosion of a metal surface through the application of electric current. MATCOR has an array of proprietary cathodic protection products and systems combined with high-quality corrosion engineering, installation and maintenance services.
In business for almost 40 years, MATCOR is considered the technology leader in cathodic protection and corrosion engineering. MATCOR is headquartered in Chalfont, PA, has a service office in Houston, TX, provides turnkey services throughout the United States and has a growing list of international distributors. MATCOR has been named to the Inc. 5000 list of fastest growing companies in 2011, 2012 and 2013.