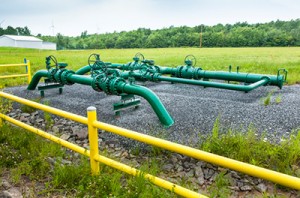 It's no secret that the Marcellus and Utica Shale formations are generating huge economic boons for the states in which they reside. Even as exploration and production increase in both Pennsylvania and Ohio, future projections show that the estimated ultimate recovery (EUR) for the region will outpace recent expansions.
A new study by ICF International projects that between the Marcellus and Utica Shale, natural gas production will expand to 34 billion cubic feet (Bcf) per day by 2035. This is a 36% growth from the 2014 estimations of 25 Bcf.
Since 2009, the production levels in both the Utica and Marcellus Shale have increased at an exponential rate. These natural gas reserves are vital to the future of American energy independence. These formations, along with the Bakken formation in North Dakota, are driving America's energy sector forward.
As scientists research the full potential of the formations, technological improvements are drastically changing our ability to recover their stored energy. This increased efficiency is a major factor that is driving up the estimated ultimate recovery (EUR) per well.
"The Utica and Marcellus Shale represent some of the most exciting areas of national growth over the next 20 years," said Glenn Shreffler, executive vice president of engineering at MATCOR. "As production levels grow rapidly, it's important to plan for the future and build the infrastructure to accommodate the increased capacity."
"In both regions, as well as the Bakken Formation, corrosion engineering is an important element in public safety and for the protection of significant capital investments. MATCOR's custom-designed cathodic protection systems ensure that infrastructure is designed to last. We encourage manufacturers in the Marcellus and Utica Shale to build with the future in mind."
Utica Shale Facts
• The Utica Shale is estimated to be nearly twice as large as it's more famous neighbor, the Marcellus Shale.
• Through 2015, Ohio is expected to create over 200,000 jobs and add $22 billion to the economy as a result of the Utica Shale.
• The Utica Shale supports 5,000 jobs directly, and almost 13,000 indirectly in the state of Ohio.
Marcellus Shale Facts
• The Marcellus Shale contains an estimated 84 trillion cubic feet of natural gas. Some geologists theorize that it could hold up to 500 trillion cubic feet of natural gas, which would make it the second largest field in the world.
• The Marcellus natural gas developments contributed $1.1 billion in tax revenue for Pennsylvania in 2010.
• Drilling in the Marcellus Formation has only affected .5% of the land mass in Pennsylvania – just 15,400 acres.
MATCOR, established in 1975, is one of the most experienced providers of corrosion technology. Our engineering and cathodic protection solutions are best in class. Call 800-523-6692 to contact us today.