Chalfont, PA – February 7, 2014, MATCOR, Inc., the trusted full-service provider of proprietary cathodic protection products, systems and corrosion engineering solutions, announces that Ted Huck, Vice President, will present Cathodic Protection and Corrosion Control for the Bakken Oil Infrastructure Build Out at The Bakken | Three Forks Shale Oil Innovation Conference & Expo, taking place February 10-12 at the Alerus Center in Grand Forks, North Dakota.
Mr. Huck's presentation will take place on Wednesday, February 12, 2014 in Track 3: Logistics & Downstream Infrastructure, from 1:30 pm – 3:00 pm in Ballroom 1 at the Alerus Center. Visitors can view the full conference agenda here.
The rapidly expanding footprint of oil and gas infrastructure across the Bakken region is having a lasting impact on the economy and the landscape of the region.  Properly protecting these investments from the ravages of corrosion is essential to maximize the economic usefulness of these assets and to avoid devastating environmental damage that can result from corrosion of pipelines, storage tanks, and well casings.  Cathodic Protection is one of the surest and most cost effective means to halt corrosion activity and sustain the life of operating assets.
Mr. Huck's presentation will discuss how cathodic protection works, the applications where cathodic protection is typically used, the common types of cathodic protection systems for these applications, and briefly discuss the regulations, testing and maintenance issues around cathodic protection.
"The Bakken region has experienced tremendous growth over the past few years, and we expect this growth to continue," said Douglas Fastuca, president of MATCOR. "The need for Bakken exploration & production, midstream and terminal operators to properly protect their assets from corrosion will become increasingly important. MATCOR is in unique position to support these companies with a full set of corrosion and cathodic protection solutions."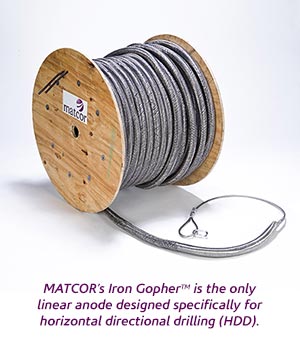 MATCOR's most recent innovation is the patented Iron Gopher®, the industry's first linear anode product developed specifically for horizontal directional drilling (HDD) installation.  For further technical and product information about Iron Gopher or any of MATCOR's innovative cathodic protection products, or to contact your MATCOR Account Manager, visit www.matcor.com or call (US. & Canada) 1 800-215-4362 (Worldwide) +1-215-348-2974.
ABOUT MATCOR
MATCOR is a full-service, ISO 9001:2008 certified provider of customized cathodic protection systems to the oil & gas, power, water and other infrastructures industries. Cathodic Protection is a technique used to control the corrosion of a metal surface through the application of electric current. MATCOR has an array of proprietary cathodic protection products and systems combined with high-quality corrosion engineering, installation and maintenance services.
In business for 40 years, MATCOR is considered the technology leader in the cathodic protection and corrosion engineering fields. MATCOR is headquartered in Chalfont, PA, has a service office in Houston, TX and recently established a presence in Ahmedabad, India. The company provides turnkey services throughout the United States and has a growing list of international distributors. MATCOR has been named to the Inc. 5,000 list of fastest growing companies in 2011, 2012 and 2013.