MMO anode technology has taken over the cathodic protection industry and MATCOR has been on the forefront for the last 20 years. Ted Huck, our VP of International Sales was interviewed at the recent NACE Corrosion Conference. In this video he discusses MMO anode technology for cathodic protection systems and the importance of reliable anode to cable connections.
MMO Anode Technology
MMO anodes, or mixed metal oxide anodes are the latest technology in the corrosion industry. Mixed metal oxide anodes are lightweight and durable with a very low consumption rate. 
MMO anodes are a mix of metal oxide electrocatalysts. In the presence of a DC voltage source they cause an electrical reaction that generates cathodic protection current. Unlike conventional impressed current anodes that physically consume as part of the cathodic protection reaction (at rates measured in kg/amp-year), MMO anodes are dimensionally stable and do not consume. Instead, they have a long and predictable catalytic life. MMO anodes consist of a thin coating of the MMO catalyst over an inert lightweight titanium substrate and are available in a wide range of shapes and configurations.
Why Cathodic Protection Systems Fail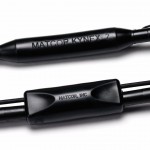 The most critical component to any cathodic protection anode system is the connection of the anode to the cable that runs back to the power supply. Because the cable is part of the anode system, if it has any nicks or defects or is not water tight, that cable can become part of the anode and will very quickly consume. When that happens, the anode fails. So, with cathodic protection systems it is imperative to have the highest quality connections.
Typically, when a cathodic protection anode system fails, it is not the anode that fails, it is the anode connection that fails. MATCOR has developed a proprietary technology for connecting wire anodes to cable, called Kynex®. Wire anodes are the heart of a lot of our products and this proprietary anode technology is a huge leap forward in the reliability of these connections.
Cost-effective, Reliable Cathodic Protection Solutions
At the end of the day, for our clients, it's all about delivering value. It's providing a cost effective solution that's going to serve them for a very long time. As a designer and manufacturer of cathodic protection anode systems, we are able to specifically address client needs with customized corrosion prevention solutions that provide:
Long life

Great economic value

Superior reliability
MATCOR Products and Services
MATCOR is one of the world's leading cathodic protection companies. We design, manufacture, install and service cathodic protection systems for clients worldwide. MATCOR provides services to the pipeline, midstream and oil & gas industries, protecting assets such as pipelines, storage tanks, and compressor stations. We also do a lot of work in the power industries, petrochemical, and chemical industries. Anywhere where you have buried steel structures, we are there to stop corrosion.
We encourage you to contact MATCOR through our website where our corrosion specialists and engineers can provide a solution tailored to your needs.