Late last week, MATCOR received notification from NACE International two of its products were selected as nominations for the inaugural MP Reader's Choice Corrosion Innovation of the Year Awards.
The two MATCOR products nominated were "The Mitigator" and MATCOR's "Kynex" connection.  Here is a brief summary:

Kynex is a unique injection molding technology used to connect a MMO/Ti wire anode to a positive anode header cable, providing a more robust connection than conventional connection technology.
The prior connection technology consisted of manually applied polyolefin heat shrinks as the outer layer—depending on the connection design employed, additional layers of sealants might be applied prior to the use of the heat shrink. These multi-step connections are all manually applied with little process control.
Kynex uses Kynar pellets injected at elevated temperatures and pressures into a mold around the anode wire and cable to provide an automated connection using the industries' most chemically inert materials to provide a better connection.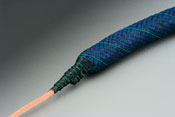 The Mitigator is the pipeline industry's first and only engineered gradient control wire packaged solution for AC Mitigation. Gradient control wires are the most commonly used technology for mitigating high levels of induced AC on pipelines in shared right of ways with overhead AC transmission lines.
Historically, pipeline companies would use either zinc ribbon or bare copper as a grounding wire running parallel to the pipeline. To improve the performance of the grounding wire, it is common to use a backfill material. The Mitigator provides a factory-packaged product that combines the copper wire with a special backfill packaged in an inert fabric housing ready to install.
To become this year's recipient of the  MP Reader's Choice Corrosion Innovation of the Year Awards we need your vote.
Follow this link, and scroll down to the online form…select Kynex as #1 and Mitigator as your #2 selection – then hit the submit button.  We would really appreciate your support.
If you are a LinkedIn, Twitter, or Facebook user and would like to be an Ambassador for MATCOR, please share this posting to your social media network.
Voting ends February 15, 2012.