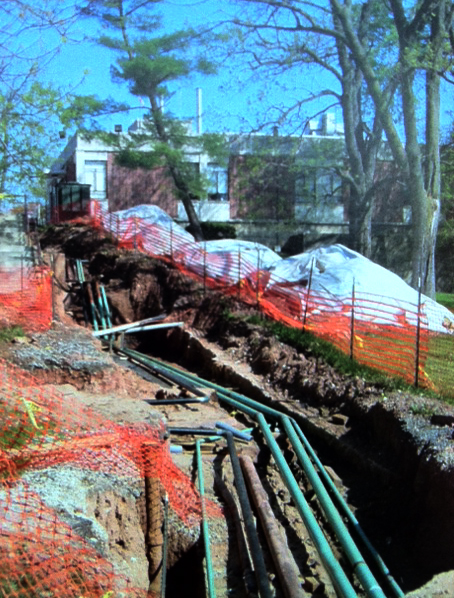 Arkema is a world class producer of industrial chemicals, but its King of Prussia, PA Research and Development facility looks more like a college campus building than your typical industrial facility.  And yet, like any industrial facility, the site has buried utility piping that is subject to external corrosion.  
When the facility experienced steam piping failures, they called in MATCOR to evaluate their corrosion risk and make suitable recommendations to prevent future leaks.
After a preliminary engineering investigation, MATCOR recommended installing our SPL-FBR linear anode.  The linear anode was ideally suited for this application because of limited site accessibility, the presence of nearby grounding, poor piping isolation, the mix of coated piping with bare steam piping, and the need for uniform current distribution along the high temperature bare steam piping.  The linear anode was installed in stages as Arkema had to excavate the steam piping in multiple locations for inspection and repairs.
MATCOR's SPL–Anode is an ideal solution for many plant environment retrofit applications.
When placed parallel to plant piping, the SPL Anode can be installed with minimal excavation while assuring even current distribution along the entire piping route.  Unlike many point anode ground bed systems, the linear anode operates at relatively low current densities and is placed in close proximity to the piping to be protected.  This reduces potential losses to nearby grounding systems and eliminates the need for isolation of plant piping. This make the linear anode a great solution for many plant piping applications such as compressor stations, power plants, petrochemical facilities, and even campus facilities such as the Arkema's King of Prussia R&D facility.