MATCOR Hosts BIC Magazine Webinar | Introduction to Cathodic Protection for Plant Maintenance and Engineering Personnel
November 20 @ 11:00 am

-

12:00 pm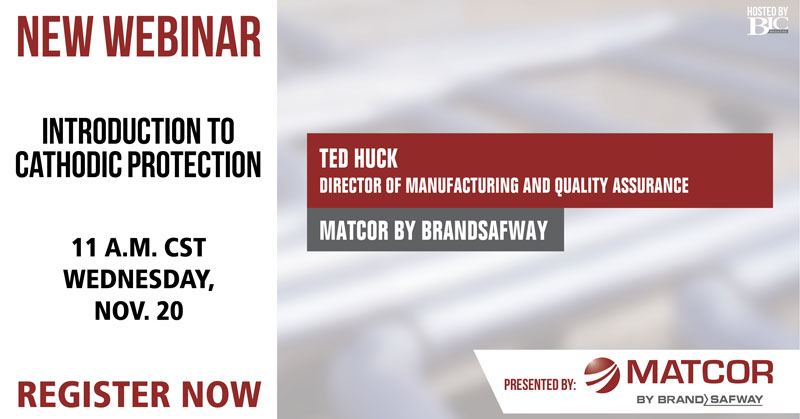 Ted Huck, MATCOR's Director of Manufacturing and Quality Assurance, will host the BIC Alliance Webinar "An Introduction to Cathodic Protection", with a focus on plant piping. The free webinar will take place on Wednesday, November 20, at 11:00 am CST.
Cathodic Protection plays an important role in protecting piping, tanks, marine structures and other infrastructure in most petrochemical and in many other industrial facilities.
Cathodic Protection Basics
The presentation will detail the basics of cathodic protection (CP) systems, and the differences between impressed current and sacrificial systems will be discussed.  Various impressed current systems will be discussed (distributed bed, deep well, linear anode).  Applications where cathodic protection should be considered will also be discussed.
Elements of a Cathodic Protection Audit
Ted will review the required elements of a thorough CP audit including review of facility piping designs, water analysis and soil testing to determine risk of corrosion and assess need for cathodic protection.
Installation, Maintenance & Testing of CP Systems
Finally, there will be a brief discussion on the installation, maintenance and ongoing testing requirements recommended to assure that the systems operate to provide a lifetime of corrosion protection for the intended structures being protected.
REGISTER NOW

»