2022 Quality Update: MATCOR ISO 9001:2015 Certification Renewal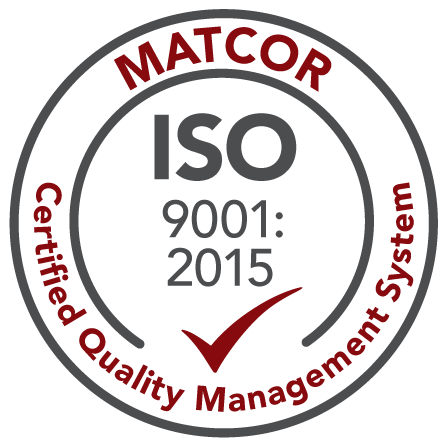 Updated February 4, 2022
MATCOR has successfully completed its recertification process for our Chalfont manufacturing facility, after having first received ISO 9001 certification in 2013.
ISO 9001 is an internationally recognized framework for establishing an effective Quality Management System based on seven key principles:
Customer Focus—A strong commitment to customer focus starts with knowing your customer and their requirements, managing communications with your customers, and measuring their perception of your performance.
Leadership—Strong leadership starts with a clear vision of your company's quality policy and active participation of senior leadership is required to assure that the company is successful in implementing its quality management system.
People—Throughout the organization, it is critical that people are properly trained, provided the appropriate resources, and are actively aware of the company's goals and performance. Having competent, empowered, and engaged people is a critical element to the success of an organization.
Process—The underpinnings of ISO 9001 is the Deming Cycle or PDCA (Plan-Do-Check-Act) which is a continuous improvement process where you plan what you are going to do, you do what you say you plan to do, you check to see that you did it right, and you act on anything that went wrong to avoid errors in the future.
Evidence-based Decision Making—Use accurate and reliable data collected from monitoring and measurement to make informed decisions on the effectiveness of your processes and to drive improvement.
Improvement—Continual improvement is essential to an effective ISO 9001 quality management system and should be the primary goal of every organization.
Relationship Management—Managing relationships with customers, employees, and suppliers has a profound impact on the sustained success of an organization.
At MATCOR's Chalfont manufacturing operation, our quality culture is guided by these seven key drivers.  Following the tenets of the ISO 9001:2015 quality program requirements helps assure our customers that the products we deliver are of the highest quality and workmanship.
MATCOR Quality Management System (QMS)
Some of the key components specific to MATCOR's QMS include:
Training
Setting and tracking ourselves against specific quality goals
Process documentation
Internal auditing
Risk and opportunity assessments
Rigorous commitment to logging and investigating all customer complaints
Adhering to calibration and maintenance schedules
A passion for continuous improvement
MATCOR's Quality Policy
MATCOR is committed to quality in the corrosion industry and helping our clients achieve their corrosion prevention goals by:
Setting quality objectives that support our strategic direction
Delivering innovative, cost-effective, and safe solutions
Complying with applicable requirements
Continually improving our Quality Management System
About ISO 9001:2015 Quality Certification
ISO 9001:2015 is globally regarded as the most comprehensive body of standards on quality management systems and practices. It was established by the International Organization for Standardization (ISO), an organization of national standards institutes of 175 countries and the foremost authority on quality standards, and is designed to provide companies with a set of principles that ensure a systematic approach to achieving customer satisfaction.
Following a rigorous evaluation process, MATCOR first earned ISO 9001:2008 certification in February 2013 for the design, manufacture, and distribution of cathodic protection systems. MATCOR was re-certified at the new standard ISO 9001:2015 in January 2018 and again in January 2022, reflecting the company's continued commitment to the highest quality standards.
View MATCOR's ISO 9001:2015 Certificate of Registration

»
MATCOR's Quality Management System was assessed by an accredited registrar that performs independent assessments against the requirements of the national and international standards for quality. This independent certification validates MATCOR's commitment to quality and affirms that MATCOR has thoroughly documented its quality processes while meeting the stringent requirements for the global ISO 9001:2015 standard.
ISO 9001:2015 certification confirms MATCOR's commitment to quality in the corrosion industry and at all levels of our organization. When doing business with MATCOR, you can be confident that you are doing business with an organization that consistently meets or exceeds your needs and helps them to achieve your business goals.
More about MATCOR, Inc.
Contact a Corrosion Expert