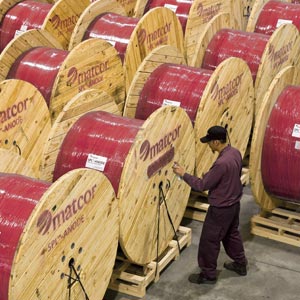 In business since 1976, MATCOR provides services and products that solve corrosion problems in major infrastructure assets such as oil, gas and water pipelines, above ground storage tanks, power plants, energy facilities, and deep wells. The corrosion prevention measures provided by MATCOR:
Prevent catastrophic events such as pipeline ruptures
Protect workers and the public
Protect the environment from exposure to hazardous materials
Extend asset life of critical infrastructure for decades
Reduce maintenance, repair and replacement costs
Permit operators to comply with increasingly stringent regulatory requirements
In 2015, MATCOR and CP Masters, both well-established independent companies with over 75 years of combined history, joined forces under the ownership of Brand Energy & Infrastructure Services. In 2017, Brand Energy merged with Safway Services, bringing MATCOR into a growing team of more than 450 technical service professionals operating from 18 locations in the US, offering customers a powerful combination of expertise, services and proprietary products to solve the corrosion problems of energy and other infrastructure markets. In 2021, BrandSafway welcomed JA Electronics into the group, bringing with them decades of expertise and a range of US-made cathodic protection rectifiers and other CP accessories to MATCOR customers.
Minimized Risk
Asset Life Extension
Regulatory Compliance
Environmental Stewardship
These are the benefits customers enjoy in terms of value and the environment. With almost 50 years of experience, MATCOR safely and cost-effectively delivers direct turnkey cathodic protection and AC mitigation solutions.
MATCOR supports customers with dedicated teams of strategically located and highly skilled professionals, along with one of the largest fleets of construction equipment in the industry. Our teams include top NACE-certified engineers, DOT operators and qualified technicians.
Why Corrosion Prevention is Critical
Structural assets in the oil, gas, power, water and other infrastructure industries are subject to ongoing effects of corrosion due to natural causes and AC (alternating current) interference from electrical transmission lines. MATCOR utilizes proven techniques and proprietary products to prevent corrosion, maintain safe and reliable operation, extend asset life and prevent devastating failures. These corrosion prevention methods deliver outstanding ROI and include cathodic protection and AC mitigation.
Cathodic Protection and AC Mitigation Services
MATCOR provides a broad range of corrosion engineering, field service, project management and AC mitigation services, including turnkey, specialty and custom corrosion engineering services for industrial applications and pipeline integrity management.
Learn more about MATCOR Services

»
MATCOR Cathodic Protection and AC Mitigation Products
MATCOR products are manufactured in the USA and include an array of proprietary impressed current linear anodes, deep anodes and systems, probe anodes, marine and water anodes, AC mitigation materials and reference electrodes, in addition to related system components such as cathodic protection rectifiers, centralizers, splice kits, cables and junction boxes.
Learn more about MATCOR Products

»
Corrosion Industry Leadership
MATCOR is considered the technology leader in cathodic protection and corrosion engineering AND was named to the Inc. 5,000 list of fastest growing companies in 2011, 2012 and 2013.
Locations
MATCOR's headquarters and ISO 9001:2015 manufacturing facility are located in Chalfont, Pennsylvania. Strategically positioned worldwide, the company has sales and service locations in Oklahoma, Texas, Wyoming, Louisiana, and Western Pennsylvania.
Contact a Corrosion Expert
More about MATCOR, Inc.