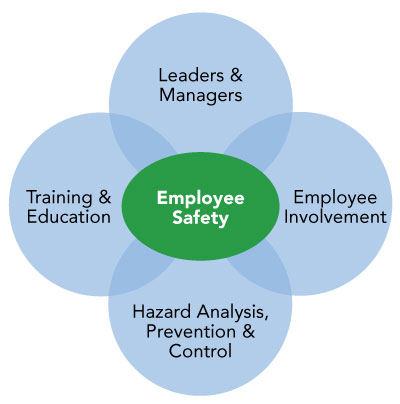 MATCOR values its employees and holds fast to an "I own safety" approach when it comes to the health and wellbeing of our employees. We have found success in our approach to observation-based safety that allows our employees the opportunity to raise awareness and concerns when it comes to hazards in the workplace and in the communities we serve.
Our focus is on protecting our employees by promoting company-wide engagement in safety. To support and achieve our goals, we adopted the philosophy that every employee is responsible, accountable and empowered to ensure workplace safety. Safety is the foundation upon which our core values are built.
The goal within MATCOR is not only to reduce recordable events but to keep its employees free from all injuries. We dive deep into PSIF (Potential Serious Injuries and Fatalities) events within the company. When a PSIF occurs, Safety–with the help of Operations–puts together event findings and corrective actions. These findings and corrective actions are communicated company-wide to allow our lessons learned to be effectively shared. We believe this is a key factor in our experiencing zero OSHA recordable events in 2021.
We give our employees the knowledge to be successful in the workplace. We invest significant time and resources to develop and implement world-class safety and environmental awareness training programs. We have implemented a cyber-based approach towards training by rolling out monthly in-house and formfit classes for our front-line craft level supervision, allowing for continuing education for our leaders in the workplace.
Cyber-based training has also provided for companywide improvement in the onboarding process. In 2022 we implemented a "NESO" (New Employee Safety Orientation) program. This 5-module series of classes is cyber-based so that all employees receive training that is accurate and consistent with how we organizationally drive safety. The program is comprised of the following:
Culture
Hazard Identification
General Hazards/PPE
Electrical/Confined Space
Working from Heights
The cornerstone of our safety programs is the implementation of an observation-based safety program. MATCOR follows a tiered approach to our observation-based safety program with MSR (Management Safety Review), SOS (Supervisor Observation System), JSO (Job Safety Planning) and EIS (Employee Intervention System) components. This comprehensive program is comprised of contact points from senior management, frontline supervisors and craft level employees. Together we hold conversations around ways to mitigate hazards.
Fostering and engaging this "I own safety" philosophy underlies every aspect of our safety program.
Safety Organization Membership
More about MATCOR, Inc.
Contact a Corrosion Expert