Copper sulfate reference electrodes are available in underground and freshwater styles. Since our permanent CuSO4 cells are larger than the norm, they have more copper sulfate than others and, therefore, have a longer life. We offer three basic types:
Basic Copper Sulfate Reference Electrodes
Underground and water tank
Dimensions: 2-inch diameter x 10 inches long
Chloride ion trap in heat formed recess
Lead wire: 25 ft #14 HMWPE stranded copper
All tested for + or – 10 millivolts to standard electrode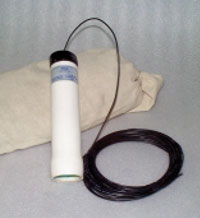 Underground CuSO4 Reference Electrodes
Basic electrode is packaged in prepared backfill to retain moisture contact and electrode stability
Size: 10-inch diameter x 24 inches long
Weight: 25 pounds
Model code: PRC-CU4-UG
Under Tank CuSO4 Reference Electrodes
Small profile for under tank applications
Size: 3" dia. x 24'
Weight: 3 lbs.
Model code: PRC-CU4-UT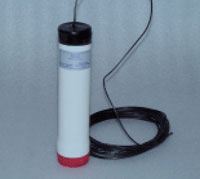 Freshwater CuSO4 Reference Electrodes
Basic electrode has extended shield over porous plug to avoid contact with structure
Model code: PRC-CU4-WT
NOTE: Reference electrodes listed above represent standard sizing. MATCOR CuSO4 Reference Electrodes can also be produced to your size and lead wire type specifications.
Please contact MATCOR for additional information.