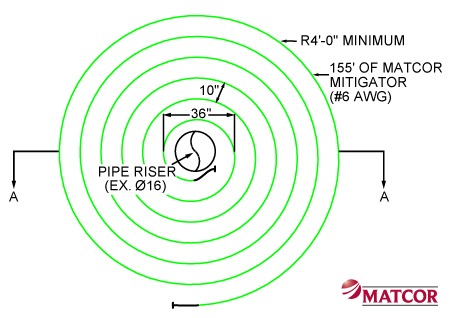 Personnel working near pipelines protected by cathodic protection are subject to lightning, AC fault current and steady state AC induction hazards. While typical gradient control mats (GCMs) have not always proven to be effective, the MATCOR MITIGATOR® is an ideal product for use in gradient control mat applications to protect workers from these hazards.
The MITIGATOR® Gradient Control Mat Benefits
Engineered grounding system with documented better performance vs. zinc or copper
Easy to install
Lightweight
Does not require anode to protect mat from corrosion
Pipeline CP readings can be taken in the
vicinity of the mat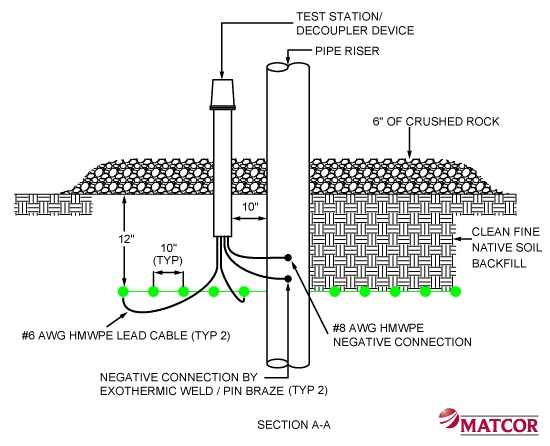 The MITIGATOR® Engineered AC Mitigation System gradient control mat configuration is recommended for these applications:
Test Stations along pipelines in a high voltage AC power line corridor
Around above grade to below grade interfaces in stations
At above ground appurtenances including blocking and metering valve sites
The MITIGATOR® Gradient Control Mat Installation
The MITIGATOR® is supplied on a reel for ease of installation. The GCM is laid out in concentric rings around the pipe or above ground appurtenance and connected to the pipe through a decoupler device.
Why MATCOR?
MATCOR's mission is to solve your corrosion problems. In addition to our broad range of proprietary corrosion prevention products, we are ready to assist with your corrosion engineering and field service needs, including design, manufacturing, installation, commissioning and ongoing maintenance, as well as full turnkey solutions.
To get in touch with our team of corrosion experts for more information, to ask a question or get a quote, please click below. We will respond by phone or email within 24 hours. For immediate assistance, please call +1-215-348-2974.
Contact a Corrosion Expert