Midstream Pipeline – Cathodic Protection System
MATCOR provides turnkey pipeline Cathodic Protection systems and pipeline corrosion monitoring for many midstream transmission pipelines throughout North America.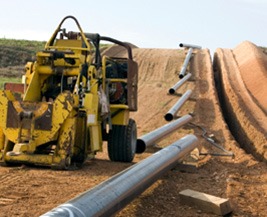 MATCOR has provided turnkey cathodic protection and pipeline corrosion monitoring solutions to many leading energy companies whose core business is natural gas exploration, production, processing and transportation throughout North America.  The majority of the work that MATCOR has done for their core client base has been to protect their pipelines utilizing MATCOR's core proprietary pipeline cathodic protection system.
MATCOR's turnkey pipeline cathodic protection systems involve several area of the business and ensure that the needs of the client are always met.  MATCOR provides a wide-range of services that include design and engineering of custom cathodic protection solutions to the particular needs of the client; custom manufacturing of the systems, Cathodic protection installation and site management; Providing a single point of contact for the project management that follows an established and proven project methodology.  This ensures a consistent approach for each engagement.
MATCOR's unique capability as a full-service provider has offered clients the confidence that their projects will be handled in the safest manner possible to keep them on time, and on budget… no matter the size or the location, or design.
---
To get in touch with our team of cathodic protection experts for more information, to ask a question or get a quote, please click below. We will respond by phone or email within 24 hours.
Contact a Corrosion Expert