MATCOR's MMB™ MMO Wire Anodes are suitable for many applications including: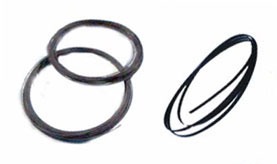 Water tanks

Marine applications
Internal applications
Ground bed applications
Tank bottoms
The mixed metal oxide wire anode element can be factory assembled with lead cable to your specifications.  The design life of the anode varies with operating current in a variety of applications from seawater to soil.  MATCOR MMB™ MMO Wire Anodes are available utilizing either a titanium or titanium/copper substrate.
These anodes are utilized in several different MATCOR Standard products and are available to you for your specialized application.  The chart below provides some of the basic information you may require.  If you need additional information please contact us.
MATCOR Model
Code
Nominal
Diameter
Anode Rating for
20 yr design
coke/fresh water
Anode Rating for
20 yr design
seawater
Solid Titanium or
Copper Cored
Titanium (WC)
Substrate
MMB-W(WC)-
062
0.062"
(1.5mm)
100 mA/ft
(328mA/m)
300 mA/ft
(984 mA/m)
MMB-W(WC)-
092
0.092"
(2.4mm)
200 mA/ft
(656 mA/m)
600 mA/ft
(1968 mA/m)
MMB-W(WC)-
125
0.125"
(3.0mm)
300 mA/ft
(984 mA/m)
900 mA/ft
(2953 mA/m)
MMB-W(WC)-
156
0.156"
(3.8mm)
400 mA/ft
(1312 mA/m)
1200 mA/ft
(3936 mA/m)
MMB-W(WC)-
188
0.188"
(4.8mm)
500 mA/ft
(1640 mA/m)
1500 mA/ft
(4921 mA/m)
Availability of copper cored wire may be subject to minimum order quantity.  Higher output versions may be available for some wire anode sizes utilizing additional mixed metal oxide coating loading.
MATCOR's mission is to solve your corrosion problems. In addition to our broad range of proprietary corrosion prevention products, we are ready to assist with your corrosion engineering and field service needs, including design, manufacturing, installation, commissioning and ongoing maintenance, as well as full turnkey solutions.
To get in touch with our team of corrosion experts for more information, to ask a question or get a quote, please click below. We will respond by phone or email within 24 hours. For immediate assistance, please call +1-215-348-2974.
Contact a Corrosion Expert