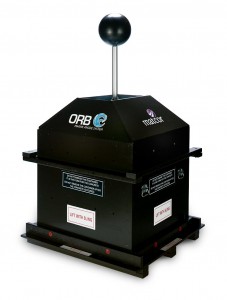 A true innovation, the worldwide patent-pending (Chinese Patent ZL 201220121475.2) ORB Marine Anode System combines a unique spherical anode shape with a simple installation package to provide a unique marine anode system.  The ORB Marine Anode System is capable of withstanding difficult service environments while delivering significant cathodic protection current from a compact anode system.
ORB Marine Anode System Benefits
Spherical shape… the ORB Marine Anode is the optimal shape for discharging current, and offers the lowest physical resistance to water currents and the lowest risk of damage from debris
High capacity system in a small anode footprint
Designed for the field installation of a concrete base, to minimize shipping weight
Base can be modified to accommodate exceptionally high sea-level floor and forces will remain in place
Patented connection design allows for clients to make watertight cable connection while on location
Model
ORB Size
(Diameter in ft)
Output Rating for 15
Years
Anode Resistance in 50
ohm-cm Seawater
ORB 1.5
1.5 ft
100 amps
0.174 ohms
ORB 1.5X
1.5 ft
200 amps
0.174 ohms
ORB 2
2 ft
300 amps
0.131 ohms
ORB 3
3 ft
400 amps
0.087 ohms
ORB 3X
3 ft
500 amps
0.087 ohms
MATCOR's mission is to solve your corrosion problems. In addition to our broad range of proprietary corrosion prevention products, we are ready to assist with your corrosion engineering and field service needs, including design, manufacturing, installation, commissioning and ongoing maintenance, as well as full turnkey solutions.
To get in touch with our team of corrosion experts for more information, to ask a question or get a quote, please click below. We will respond by phone or email within 24 hours. For immediate assistance, please call +1-215-348-2974.
Contact a Corrosion Expert