MATCOR Pile Anodes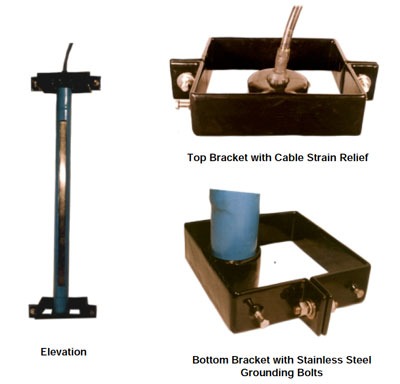 Pile anodes are impressed current MMO (mixed metal oxide) anodes manufactured in flat and round form in various current outputs, generally starting at 5 amperes DC and more. The pile anode is designed to minimize exposure to damage in rough waters and from floating debris and ice.
MATCOR pile anodes are available in several configurations that can be used in marine applications for:
Z Sheet piling
Round Piles
Square piles
The pile anode assemblies are available with attached cables of various sizes and cable insulations. The Pile Anode is a complete and ready to install assembly that minimizes diver time in the water. Contact MATCOR with specific requirements for the Pile Anode that meets the application requirements.
MATCOR's mission is to solve your corrosion problems. In addition to our broad range of proprietary corrosion prevention products, we are ready to assist with your corrosion engineering and field service needs, including design, manufacturing, installation, commissioning and ongoing maintenance, as well as full turnkey solutions.
To get in touch with our team of corrosion experts for more information, to ask a question or get a quote, please click below. We will respond by phone or email within 24 hours. For immediate assistance, please call +1-215-348-2974.
Contact a Corrosion Expert