Internal Corrosion Direct Assessment (ICDA) is a structured process that improves safety by assessing and reducing the impact of internal corrosion on pipeline integrity. ICDAs proactively identify corrosion defects to prevent such defects from growing to a size that would ultimately impact a pipeline's structural integrity by:
Identifying and addressing corrosion activity
Repairing corrosion defects
Remediating the causes of corrosion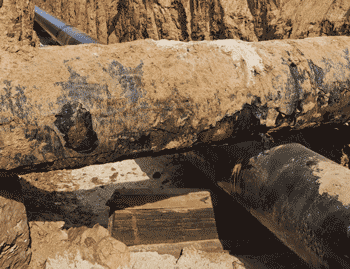 An ICDA is based on detailed examination of key locations along a pipeline where an electrolyte such as water first accumulates, thus providing information about the remaining length of pipe. The primary goal of the approach is to determine if internal corrosion is likely or unlikely to exist in a chosen length of pipe. Locations most likely to accumulate electrolyte are predicted using the results of pipeline multi-phase flow modeling.  If the locations along a length of pipe most likely to accumulate electrolyte have not corroded, then other locations less likely to accumulate electrolyte may be considered free from corrosion and not require further examination. The method is applicable for gas transmission lines that normally carry dry gas but may suffer from short term upsets of wet gas or liquid water.
Through regular assessments, pipeline operators can identify and address locations where corrosion has occurred, is occurring or may occur. The internal direct assessment of a pipeline involves the following phases:
Pre-Assessment
The ICDA pre-assessment phase involves:
Collecting historical and operational data regarding the pipeline to assure that the ICDA methodology is appropriate for the particular pipeline
Planning the collection of field data during the indirect inspection phase
Collecting the necessary operational data to properly perform multi-phase modeling
Indirect Assessment
Utilizing sub-meter accurate GPS and a pipeline current mapper (PCM) tool to collect accurate depth of cover data, a pipeline elevation profile is created from data collected along the pipeline. This data, in conjunction with the multi-phase flow modeling calculations determined by our liquid hold-up software allows for critical inclination angle locations to be identified as potential water hold-up locations.
Direct Inspection
Based on the model results developed in the indirect inspection, multiple excavations can be performed to allow for direct physical examination of the predicted hold up points. Ultrasonic thickness testing of the excavated pipeline is performed to evaluate whether or not internal corrosion is a present threat at these hold-up locations.
Post Assessment
During this step, MATCOR provides a detailed report outlining the results and assessing the effectiveness of the ICDA process and recommending reassessment intervals.
MATCOR Internal Corrosion Direct Assessment Services
MATCOR has performed ICDA evaluations of numerous pipelines in accordance with NACE Standard SP0206-2006 Dry Gas Internal Corrosion Direct Assessment (DG-ICDA.)
Qualified MATCOR technical personnel can conduct and analyze the results foreach phase of internal corrosion direct assessment of pipelines.
With MATCOR, you benefit from:
Over 45 years of experience with all types of cathodic protection systems
Experience testing, installing and maintaining cathodic protection systems for all types of structures throughout the world
Highly qualified professional and NACE corrosion engineers and technicians
Team members with experience on the client side of CP projects
Experience managing multi-million dollar CP projects and corrosion departments of large utilities and pipeline companies
MATCOR's many proprietary cathodic protection systems that are lower in cost and have longer lives than some commonly used CP systems
MATCOR's mission is to solve your corrosion problems. We are ready to assist with your corrosion engineering and field service needs, including design, manufacturing, installation, commissioning and ongoing maintenance, as well as project management and full turnkey solutions. In addition, we offer a broad range of proprietary corrosion prevention products.
To get in touch with our team of corrosion experts for more information, to ask a question or get a quote, please click below. We will respond by phone or email within 24 hours. For immediate assistance, please call +1-215-348-2974.
Contact a Corrosion Expert