Marine Anode for Docks, Piers, Pilings and other Submerged Structures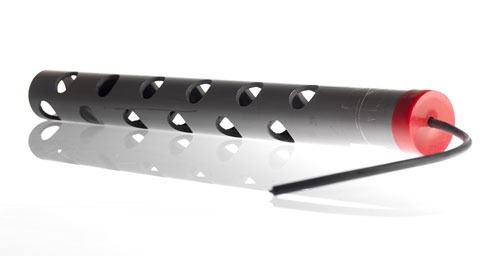 MATCOR's marine anode, the PW-Anode, was developed for the impressed current cathodic protection of structures in marine environments such as docks, piers, platforms, and submerged structures. The PW anode system consists of a custom fabricated PVC anode housing and a MATCOR Mixed Metal Oxide anode assembly.
PW Marine Anodes are used for:
Docks
Piers
Jetties
Wind turbine jackets and monopiles
Stationery floating vessels such as riverboat casinos and historical naval vessels
The PW-Anode is ideal for the protection of marine structures. It can be suspended from the the side or underside of pier decks, platforms or vessels; or attached to piles or jackets using marine strapping or suitable brackets. This anode is also suitable for protecting internal wetted surfaces of process equipment such as aerators, flocculators, clarifiers, digestors, etc.
The PW-Anode is available with several types of cable insulation including Kynar/HMWPE for chlorine resistance.  It can be supplied with a lowering rope, eye bolt assembly, and optional weight assembly for hanging. This marine anode is available in a wide range of sizes and current outputs, and can be custom designed for a specific application's requirements.
Click here to download our Engineering Drawing of the PW-Anode and provide your specifications. Once completed, email to matcorsales@matcor.com for a quote.

»
MATCOR's mission is to solve your corrosion problems. In addition to our broad range of proprietary corrosion prevention products, we are ready to assist with your corrosion engineering and field service needs, including design, manufacturing, installation, commissioning and ongoing maintenance, as well as full turnkey solutions.
To get in touch with our team of corrosion experts for more information, to ask a question or get a quote, please click below. We will respond by phone or email within 24 hours. For immediate assistance, please call +1-215-348-2974.
Contact a Corrosion Expert