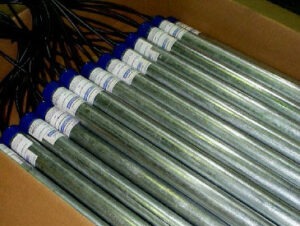 MATCOR PL-Anodes (platinum anodes), like our MMP™ series of products, are engineered to be used in designs as a superior alternative to prepackaged graphite anodes or high silicon cast iron anodes. These extremely durable anodes are prepackaged in their own special backfill, and no additional coke breeze is needed. The PL–Anode is a high efficiency, long life platinum niobium anode. This anode is easy to design and install in your cathodic protection system. They are already sized for platinum/ niobium thickness, length, resistance, and current output.
The PL-Anode Offers Several Key Advantages Over Pre-Packaged Graphite or High Silicon Cast Iron Anodes.
Advantages of Prepackaged Platinum Anodes
Lower upfront cost
Significant reduction in weight, reducing shipping costs
Lower consumption rate and longer design life
Greater ease of handling – can be installed by one man
Heavy duty steel canister vs. thin gage housing typical of larger pre-packaged anodes
Smaller diameter reduces bore hole size
Long lengths available to reduce anode resistance
Other Considerations
All PL®-Anodes are 2" diameter (50 mm)
The PL®-Anodes should not be operated at a current output higher than recommended or above 100 volts D.C. for optimum utilization
The Design Life Calculation is based on the recommended current output in seawater
Calculated resistance of a single anode in 1000 ohm/cm soil. Paralleling of multiple anodes will lower ground bed resistance significantly
PL®-Anodes are supplied with 10 ft. (3.04M) of AWG No.10 HMWPE cable as a manufacturing standard
Other sizes, lengths, and types of cables are available
Specifications
MATCOR
Order Code
Length
Ft (M)
Operating
Current
(Amperes)
Design Life
Years*
Single
Anode
Resistance
O/1000O-cm

Weight
Lbs. (kg)
Conversion to Conventional Anodes
Standard PL-Anodes
PL-1
2 (0.61)
0.25
20
9.3
5 (2.25)
2" x 9"
Silicon Iron
in Coke Breeze
PL-2
5 (1.52)
0.50
20
4.7
13 (5.9)
3" x 30"
Graphite in
Coke Breeze
PL-3
10 (3.04)
1.00
20
2.7
25 (11.3)
3" X 60"
Graphite in
8"x84" Coke
Breeze Package
Long Life PL-Anodes
PL-4
2 (0.61)
0.25
40
9.3
5 (2.25)
- NONE-
PL-5
5 (1.52)
0.50
40
4.7
13 (5.9)
1.5" X 30"
Silicon Iron
in Coke Breeze

PL-6
10 (3.04)
1.00
40
2.7
25 (11.3)
1.5" x 60"
and 2" x 60"
Silicon Iron
in 8" x 84"
Coke Breeze
Package

Hi Current PL-Anodes
PL-7
2 (0.61)
1.00
20
9.3
5 (2.25)
- NONE-
PL-8
5 (1.52)
2.50
20
4.7
13 (5.9)
- NONE-
PL-9
10 (3.04)
5.00
20
2.7
25 (11.3)
3" X 60"
Silicon Iron
in Coke
Breeze
MATCOR's mission is to solve your corrosion problems. In addition to our broad range of proprietary corrosion prevention products, we are ready to assist with your corrosion engineering and field service needs, including design, manufacturing, installation, commissioning and ongoing maintenance, as well as full turnkey solutions.
To get in touch with our team of corrosion experts for more information, to ask a question or get a quote, please click below. We will respond by phone or email within 24 hours. For immediate assistance, please call +1-215-348-2974.
Contact a Corrosion Expert