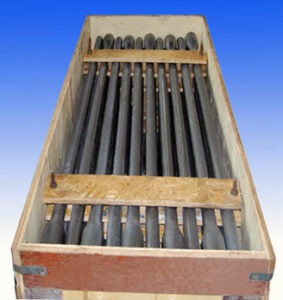 MATCOR manufactures a full line of high silicon cast iron anodes in a number of configurations, sizes and current ratings:
All standard sizes are available
Available in both tubular and solid rod form
Center connections with MATCOR high quality sealing for tubular type anodes
Configurations include bare anodes with lead wire, packaged in coke backfill and in a strung configuration for some types
With any length of lead wire in different cable gages and with various insulations including: HMWPE, Halar, and Kynar/HMWPE
MATCOR recommends considering the use of MMO (mixed metal oxide) anode alternatives including prepackaged platinum anodes, MMP-Anodes and the state-of-the-art Durammo® Deep Anode System.
MATCOR's mission is to solve your corrosion problems. In addition to our broad range of proprietary corrosion prevention products, we are ready to assist with your corrosion engineering and field service needs, including design, manufacturing, installation, commissioning and ongoing maintenance, as well as full turnkey solutions.
To get in touch with our team of corrosion experts for more information, to ask a question or get a quote, please click below. We will respond by phone or email within 24 hours. For immediate assistance, please call +1-215-348-2974.
Contact a Corrosion Expert