Impressed Current Linear Anode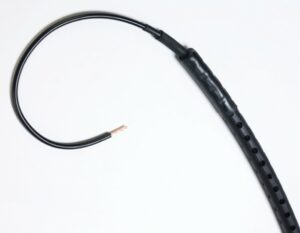 The SPL-HDPE-Anode is used in concrete and marine environments and is a mixed metal oxide anode housed in tough, perforated, continuous, high-density polyethylene housing without backfill. Used in marine environments, the anode is protected in the housing that enables water to surround the anode while maintaining good current distribution from the anode.
The SPL-HDPE-Anode has been used successfully on sea floors and river bottoms to protect submerged structures such as bulkheads, pipelines and pilings. The anode is held in place on the river or sea bottom with weights provided by MATCOR.
Helium Leak Testing Now Available

»
Used in concrete, the SPL-HDPE-Anode protects embedded reinforcing metal objects in the concrete. The perforations are sized to allow concrete and normal aggregate to fill the inside of the HDPE housing.
Because the HDPE housing is resistant to chlorine gas and other substances, the anode has been used successfully in industrial applications where the anode is submerged in fluids. Contact MATCOR for assistance with industrial applications.
The SPL-HDPE-Anode is available in all standard SPL-Anode current and life ratings.
SPL™-HDPE-Anode Benefits
Single package impressed current linear anode system with uniform current distribution
Flexible
Can be used in concrete
Continuous mixed metal oxide anodes
Uses patented MATCOR Kynex® waterproof connections
Contact a Corrosion Expert
SPL™-HDPE-Anode Components
Engineering Drawing

»
Anode: continuous mixed metal oxide anode sized for the rated current output and life.
Cable: a continuous high molecular weight polyethylene covered stranded copper cable sized for the current rating. The cable is also available in dual extrusion with primary Kynar® insulation for chemical resistance.
Kynex Waterproof Connections : the Kynex connections between the anode and the internal carrier cable are spaced to provide uniform current distribution.
Housing: a high-density polyethylene perforated to precise measurement on automated machinery at MATCOR.
Packaging: wooden reels or loose coils.
Designing and Ordering SPL-HDPE-Anodes
The SPL-HDPE-Anode can be designed for any application using the rated current outputs.
Installing SPL-HDPE-Anodes
The SPL-HDPE-Anode can be installed utilizing a variety of methods. Contact MATCOR for additional information or assistance with designing or ordering the SPL-HDPE-Anode.
MATCOR's mission is to solve your corrosion problems. In addition to our broad range of proprietary corrosion prevention products, we are ready to assist with your corrosion engineering and field service needs, including design, manufacturing, installation, commissioning and ongoing maintenance, as well as full turnkey solutions.
To get in touch with our team of corrosion experts for more information, to ask a question or get a quote, please click below. We will respond by phone or email within 24 hours. For immediate assistance, please call +1-215-348-2974.
Contact a Corrosion Expert