MATCOR offers horizontal directional drilling services to install cathodic protection anode solutions for new and existing tanks without shielding secondary containment liners.
State of the Art HDD Equipment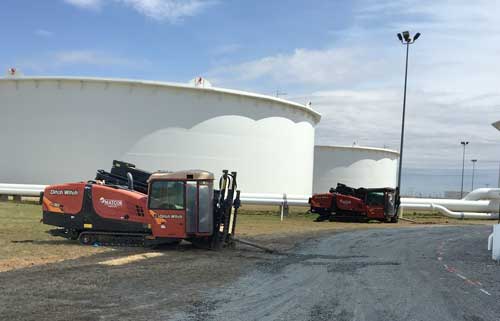 The use of advanced HDD technology allows for the installation of linear anodes and reference electrodes under existing tanks with non-shielding secondary containment liners.
MATCOR's fleet of HDD rigs are operated by highly experienced drillers utilizing the latest electronic tracking technologies to assure the highest degree of safety and reliability during the critical drilling operations.
Anode Solutions
MATCOR's tank cathodic protection systems that can be installed via horizontal directional drilling include:
Standard MATCOR SPL-FBR anode assemblies (part of the MATCOR SPL™-Anode Series) consisting of an MMO wire anode in a factory packed coke backfilled sock designed for long life (typically 50+ years)
Our patented Iron Gopher® linear anode technology provides a packaged anode designed specifically for difficult HDD installations.
MATCOR's Replaceable Tank Anode (RTA) design utilizes a bare MMO anode assembly and vent pipe installed in a slotted PVC housing with coke backfill installed pneumatically.

 

These anodes can be replaced at the end of their useful life.

Complete System Installation
MATCOR can provide a complete tank cathodic protection system solution including:
MATCOR MMO anode assemblies
Vent pipe
Cable – Kynar® available for corrosive environments
Junction Boxes
Benefits 
Entire system can be installed in one visit
Long life MATCOR linear anodes in a range of configurations and outputs reliably installed under existing tank
Replaceable configuration available
Reliable Kynex® connection technology with redundant power fed from both ends of the anode
---
Have questions about horizontal directional drilling for tanks, or need a quote for tank CP services and materials? Contact us at the link below.