Impressed Current Linear Anode for HDD Applications

Iron Gopher is the only linear anode designed specifically for cathodic protection in horizontal directional drilling (HDD) applications. Iron Gopher is patented and features a superior strength stainless steel braid and aircraft pulling cable with an integral pulling loop. Inside Iron Gopher is MATCOR's braided SPL™-FBR-Anode with patented Kynex® connections. There is no better linear anode for HDD applications.
MATCOR's Iron Gopher linear anode for HDD applications is available in Standard and Dual-End models.
Standard Model: The main insulated cable exits both ends of the Iron Gopher Linear anode and either end can be connected to the DC power source.
Dual End Model: The main insulated cable is looped back inside the braiding and two cable ends exit one end of the linear anode wrapping. This is ideal when power can only be connected to one end of the anode.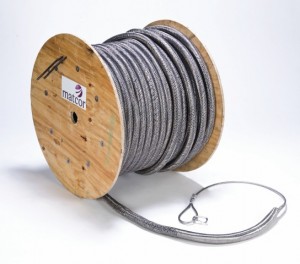 Iron Gopher HDD Linear Anode Benefits
Superior strength for pulling with stainless steel jacket for linear anode protection during installation
Built-in pulling loop
Integral aircraft cable distributes pulling forces to outer stainless steel braiding, protecting the anode, cable and connections
Can be cut and spliced in the field
Designed and manufactured in the USA at MATCOR's ISO 9001:2015 facility
Helium Leak Testing Now Available

»
"We recently installed several thousand feet of MATCOR's Iron Gopher® linear anode at an HDD project in NE Georgia. With its unique design and greatly increased strength, the product is superior to anything seen in the market for HDD applications. The HDD installation went exceptionally well and the anode is performing as expected. We were excited to work with MATCOR on this project and expect to come back to Iron Gopher for future HDD projects."

— Major Pipeline Operator
Contact a Corrosion Expert
Iron Gopher HDD Linear Anode Components
Engineering Drawing

»
Internal Anode: MATCOR SPL™-FBR Linear Anode in the standard ratings
External Braid: High tensile strength, 6-stranded, flexible, stainless steel external wire braiding
Integral Pulling Cable
Available DC Current Outputs:
16 mA/ft (51 mA/meter)
25 mA/ft (80 mA/meter)
50 mA/ft (160 mA/meter)
100 mA/ft (320 mA/meter)
Higher Outputs Available
Product Diameter: 1.65"(42 mm)
Weight: 1.2 lbs/ft (1.7 kg/meter)
Life expectancy: 30 years or more
Available lengths: Up to 1,400 feet; supplied on reels
Iron Gopher HDD Linear Anode Design Instructions
Design Iron Gopher as you would any SPL™-Anode and be sure to specify the Standard Model or Dual End Model. The Standard Model is used for most cathodic protection applications such as roads, streams and property crossings. The Dual End Model is useful for undertank applications or anywhere it is not possible to connect to both ends of the linear anode.
If you need assistance, MATCOR engineers can handle your complete Iron Gopher Linear Anode cathodic protection system design, from data collection to complete design drawings and specifications. However, if you have linear anode system design capability, Iron Gopher is easy to design and use.
Iron Gopher HDD Linear Anode Installation
The Iron Gopher linear anode is factory assembled and ready to install. Simply attach the linear anode to the HDD reamer with Iron Gopher's integrated pulling loop, and pull through the hole with confidence that the strongest linear anode is in place for the best HDD cathodic protection.
Gopher Family Installation Guide

»
MATCOR's mission is to solve your corrosion problems. In addition to our broad range of proprietary corrosion prevention products, we are ready to assist with your corrosion engineering and field service needs, including design, manufacturing, installation, commissioning and ongoing maintenance, as well as full turnkey solutions.
To get in touch with our team of corrosion experts for more information, to ask a question or get a quote, please click below. We will respond by phone or email within 24 hours. For immediate assistance, please call +1-215-348-2974.
Contact a Corrosion Expert