Impressed Current Linear Anode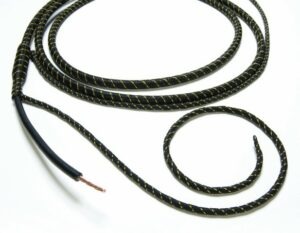 The SPL-Braid-Anode is a special anode designed for use in both salt and potable water. The anode is wrapped in chlorine resistant Kynar® braiding and is available in all standard SPL-Anode current outputs and in long continuous lengths. It is a complete, ready to install anode system.
SPL-Braid-Anode Benefits
Single package impressed current linear anode system with uniform current distribution
Flexible
High resistance to chlorine and can be used in salt water environments
Continuous mixed metal oxide anodes
Uses patented MATCOR Kynex® waterproof connections
Helium Leak Testing Now Available

»
Contact a Corrosion Expert
SPL™-Braid-Anode Components
Engineering Drawing

»
Anode: continuous mixed metal oxide anode sized for the rated current output and life.
Cable: continuous high molecular weight polyethylene Kynar® insulated stranded copper cable sized for the current rating.
Kynex Waterproof Connections: the Kynex connections between the anode and the internal carrier cable are spaced to provide uniform current distribution.
Housing: is a continuous non-degrading, chlorine resistant Kynar braiding.
Packaging: supplied on wooden reels.
Designing and Ordering SPL-Braid-Anodes
The SPL™-Braid-Anode can be designed for any application using the rated current outputs. Contact MATCOR for assistance with the design of the cathodic protection system using the SPL-Braid-Anode. The SPL-Braid-Anode is available in any length required.
Installing SPL-Braid-Anodes
The SPL-Braid-Anode can be installed utilizing various methods including hanging, stretching between supports, laying on the sea floor and more. For sea floor or river bottom installations, MATCOR can supply weights to keep the anode in position. For hanging installations, contact MATCOR to include an internal support system inside of the braid.
MATCOR's mission is to solve your corrosion problems. In addition to our broad range of proprietary corrosion prevention products, we are ready to assist with your corrosion engineering and field service needs, including design, manufacturing, installation, commissioning and ongoing maintenance, as well as full turnkey solutions.
To get in touch with our team of corrosion experts for more information, to ask a question or get a quote, please click below. We will respond by phone or email within 24 hours. For immediate assistance, please call +1-215-348-2974.
Contact a Corrosion Expert