Impressed Current Anode System for Internal Pipeline Surfaces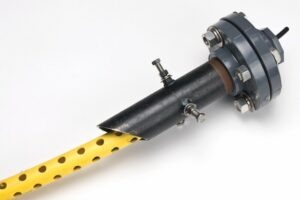 MATCOR's patented SPL™-INT Anode System for internal pipeline cathodic protection (CP) is the only impressed current, linear anode system for cathodic protection of internal pipeline surfaces. Used for water and salt water pipelines, the system features entrance fittings spaced as far as two hundred feet apart. Other methods for cathodic protection of large diameter pipeline internal surfaces require closely spaced probe anodes.
Helium Leak Testing Now Available

»
The SPL-INT Anode System utilizes a series of MATCOR's field-proven SPL-HD internal impressed current anodes. Made to specific lengths with unique fittings, the anodes run between two entrance fittings inside of the pipe. A series of anodes, each up to 200 feet in length, work together to prevent corrosion on the adjacent internal surface of the pipeline. The pressure entrance fittings are welded to the pipeline. The SPL-INT Anode system requires monitoring reference electrodes and a cathodic protection rectifier. Anode replacement is possible while keeping the permanent entrance fittings.
MATCOR SPL-INT-Anode Benefits
Protects internal pipeline surfaces with the least number of entrance fittings
Provides uniform current distribution compared to probe anodes
Anodes can be replaced
Protects long lengths of piping
Uses MATCOR proven SPL-Anode technology
Contact a Corrosion Expert
SPL-INT-Anode Components
Engineering Drawing

»
The SPL-INT Anode is a complete system that consists of one or more linear anode assemblies and fittings depending on the pipe configuration and final design. Each anode assembly includes:
SPL-INT Anode: the linear anode is designed specifically for this system with a made to length assembly and entrance fittings on each end.
As shown in the Drawing 1113-16-01, the fitting consists of a carbon steel or stainless steel pipe section ready to weld to the main pipeline, PVC flange set, entrance fittings and stainless steel nuts, bolts and washers. The entrance fitting is waterproof and designed for 150 lb. pressure.
In addition to the entrance fittings and linear anode assemblies, the following components are needed to complete the system:
Rectifier: MATCOR will help to size and provide the appropriate rectifier.
Reference Electrodes: A MATCOR probe type, silver-silver chloride reference electrode is recommended for the SPL-INT Anode system. The number of electrodes will depend on the system configuration and application.
Cabling and possible junction boxes.
SPL-INT-Anode Design Instructions
MATCOR engineers will configure and design your SPL-INT Anode cathodic protection system design, from data collection to complete design drawings and specifications. MATCOR engineers will require pipe diameters, flow rates, description of the material flowing in the pipeline and the configuration of the piping. Anodes can be up to 200 ft. in length and the system is generally used on larger diameter piping.
SPL-INT-Anode Installation
Contact MATCOR for the installation instructions. Installation varies with each application of the engineered SPL-INT Anode system. The general steps include:
Cut holes for the steel piping for the entrance fittings
Weld the steel fitting to the pipeline.
Pull the anode assembly through the pipeline with cable puller provided by MATCOR.
Finish installation of the entrance fittings to create a waterproof seal.
Install the probe reference electrode(s).
Install the rectifier and junction box with the cabling as required.
MATCOR's mission is to solve your corrosion problems. In addition to our broad range of proprietary corrosion prevention products, we are ready to assist with your corrosion engineering and field service needs, including design, manufacturing, installation, commissioning and ongoing maintenance, as well as full turnkey solutions.
To get in touch with our team of corrosion experts for more information, to ask a question or get a quote, please click below. We will respond by phone or email within 24 hours. For immediate assistance, please call +1-215-348-2974.
Contact a Corrosion Expert