Download our expanded Tank Cathodic Protection Solutions brochure HERE, including the industry leading Tank Ring Anode System, HDD Installation for Tanks, Water Tank Anode Systems and Core Drilled Anode Systems.
SPL™-Anode Tank Ring Anode System for Above-Ground Storage Tanks (ASTs)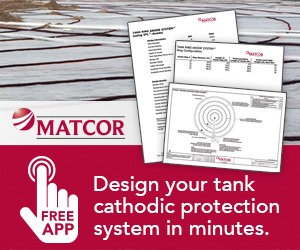 MATCOR has developed an accurate, reliable and easy to install impressed current cathodic protection system for the bottoms of above ground storage tanks (AST's). MATCOR's unique SPL-Anode system with patented Kynex® technology is manufactured in concentric rings and ready for installation on a specific tank.
Once designed and manufactured by MATCOR, installation is as easy as laying out the rings per a drawing provided by MATCOR and connecting the header cables to the CP rectifier. MATCOR Tank Ring Anode cathodic protection systems include:
Concentric SPL-Anode Rings manufactured to length and numbered for each position
Available in all current output sizes
MATCOR engineered anode placement with numbered anode rings
MMO Anodes used in the SPL-Anode assembly
Reliable Kynex® connection technology
MATCOR installation drawing indicating layout of SPL-Anode rings and reference electrodes
MATCOR engineers can also design and manufacture your complete tank farm cathodic protection system. There is no equal in cathodic protection.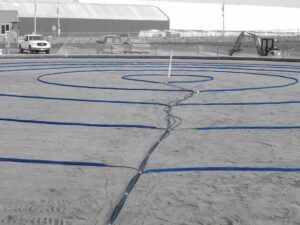 Product Benefits
Fast, easy installation
No field anode assembly required—factory-assembled system is ready to install
Systems available for new and retrofit tanks
Superior current distribution
Reliable Kynex® connection technology
Product Components
Engineering Drawing

»
Each MATCOR Tank Ring SPL-Anode System includes the concentric rings cut to length per the MATCOR drawing. Each SPL-Anode ring includes a sufficient length of cable on both ends of each segment to reach the rectifier or junction box without splicing.
MATCOR also recommends the following optional equipment for a complete installation:
MATCOR under tank CUSO4 reference electrodes with sufficient cable to run to the junction box or rectifier
Ground cables and reference electrodes
Rectifier and junction box
Helium Leak Testing Now Available

»
Tank Ring Anode System Design and Ordering
Contact MATCOR engineering to size the Tank Ring SPL-Anode System for your tank. MATCOR will determine the number and length of rings, recommended reference electrodes and cable. Simply order the system quoted and a complete, easy to install tank system will be shipped to your location.
Need to replace a tank bottom cathodic protection system fast? Learn about MATCOR's Quick Ship Cathodic Protection for Tanks Program.
Design Your Tank Ring Anode System

»
To get started, call MATCOR with the following information:
Tank bottom diameter
Depth to line or second steel tank floor
Distance from tank to rectifier or junction box
Current output required
Life of system desired; systems can be 20 to 100+ years
Material below tank bottom and resistance if known
Tank Ring Anode System Specifications
Simply specify the MATCOR Tank Ring SPL-Anode System as designated on the MATCOR drawings produced for your project.
Tank Ring Anode System Installation
Watch the Video: Easy to Install Tank CP
This time-lapse video shows a 3-man crew installing one of the outer rings of a 240 ft diameter tank in just 8 minutes.
The installation of your custom-manufactured MATCOR Tank Ring SPL-Anode System is fast and easy:
Lay out anode rings per the drawing provided
Run the anode lead wires to the junction box or rectifier without splicing or connecting to a header cable
Place reference electrodes where designated
Run all cables to rectifier or junction box
Tank Bottom Cathodic Protection System Installation Guide

»
SPL™-Anode Series Outputs And Specifications
25 Milliamperes/ln.ft. (80ma.ln. meter)
100 Milliamperes/ln.ft. (320ma.ln. meter)
200 Milliamperes/ln.ft. (640ma.ln. meter)
400 Milliamperes/ln.ft. (1280ma.ln. meter)
Higher outputs are available
Rating is based on single anode in soil/coke
Design Life: Minimum of 25 years at the rated output
Anode Type: Mixed Metal Oxide
No welding, hot permit, splicing of anode sections or special backfill is required. Most MATCOR Tank Ring SPL-Anode systems can be installed in less than two hours with a small crew.
MATCOR's mission is to solve your corrosion problems. In addition to our broad range of proprietary corrosion prevention products, we are ready to assist with your corrosion engineering and field service needs, including design, manufacturing, installation, commissioning and ongoing maintenance, as well as full turnkey solutions.
To get in touch with our team of corrosion experts for more information, to ask a question or get a quote, please click below. We will respond by phone or email within 24 hours. For immediate assistance, please call +1-215-348-2974.
Contact a Corrosion Expert