Close Interval Survey: Assessing the effectiveness of cathodic protection systems
A close interval survey (CIS) is a measurement tool used to ensure pipeline cathodic protection systems are operating to NACE SP0169 specified standards. Close interval surveys may also be referred to as close interval potential surveys (CIPS). They are often part of a structured External Corrosion Direct Assessment (ECDA) process.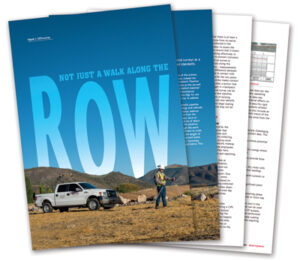 Close interval surveys are conducted on buried or submerged pipelines. At regular intervals, measurements are taken of the potential (voltage) difference between the pipeline and a reference electrode in contact with the material or soil (electrolyte). The data collected during a close interval survey provides insight into the cathodic protection on your pipeline.
MATCOR can assist with all of your CIS requirements.
Why Perform Close Interval Surveys?
There are two primary reasons to conduct close interval surveys:
Regulations – State or federal regulations require operators to assess the effectiveness of cathodic protection systems on certain protected assets such as gas pipelines.
Risk assessment – CIS is also a tool utilized to determine risks where CP assessment may not be required by law. In this case the cost of the cathodic protection system is seen as a benefit when compared to the cost of a potential catastrophic failure.
Contact a Corrosion Expert
Data from Close Interval Surveys can be used to:
Establish a baseline for assessing the performance and operation of underground pipeline CP systems
Pinpoint areas of low pipeline potentials requiring adjustment to the CP system or remediation
Test for interference at bonds and casing vents, or where foreign lines or overhead power lines exist
Close Interval Survey Methods
There are various types of close interval surveys that measure the difference between the pipeline and the ground surface at regular intervals:
Qualified MATCOR technical personnel can conduct close interval surveys in the field for oil, gas and water pipelines. Data is then analyzed by NACE certified experts.
With MATCOR close interval surveys, you benefit from:
Our excellent safety record
Conveniently located CIS crews are direct MATCOR employees
Accurate, reliable data collection. MATCOR CIS crews are full time employees. They are compensated based on complete and accurate surveys performed safely and professionally. It is common practice in the corrosion industry to pay contracted crews by the mile, where there is a risk of collecting erroneous data.
All crews have been through NACE training, and the crew leader is always NACE certified
MATCOR CIS crews provide daily field progress reports so you get a quick snapshot of what we're seeing on the pipeline
If a problem is detected our CIS crews will stop the survey, notify you and determine if the problem can be remedied prior to continuing the survey
Extensive engineering and IT support to fulfill virtually any reporting requirements
Data integrity – we utilize Pipeline Compliance Software (PCS) from AI and ARC GIS based reporting – these are the same systems used by most pipeline companies. The CIS data we collect fits right into these systems.
Graphical data presentation – we provide an alignment sheet depiction of your survey data. Utilizing mapping software we show the pipeline based on GIS coordinates and lay your CIS data underneath it. If there's a road or a fence you see it on the mapping. If there are anomalies, you can pinpoint the location.
Timely final data and reports to aid in remediation and budgeting.
MATCOR's mission is to solve your corrosion problems. We are ready to assist with your corrosion engineering and field service needs, including design, manufacturing, installation, commissioning and ongoing maintenance, as well as project management and full turnkey solutions. In addition, we offer a broad range of proprietary corrosion prevention products.
---
To get in touch with our team of corrosion experts for more information, to ask a question or get a quote, please click below. We will respond by phone or email within 24 hours. For immediate assistance, please call +1-215-348-2974.
Contact a Corrosion Expert