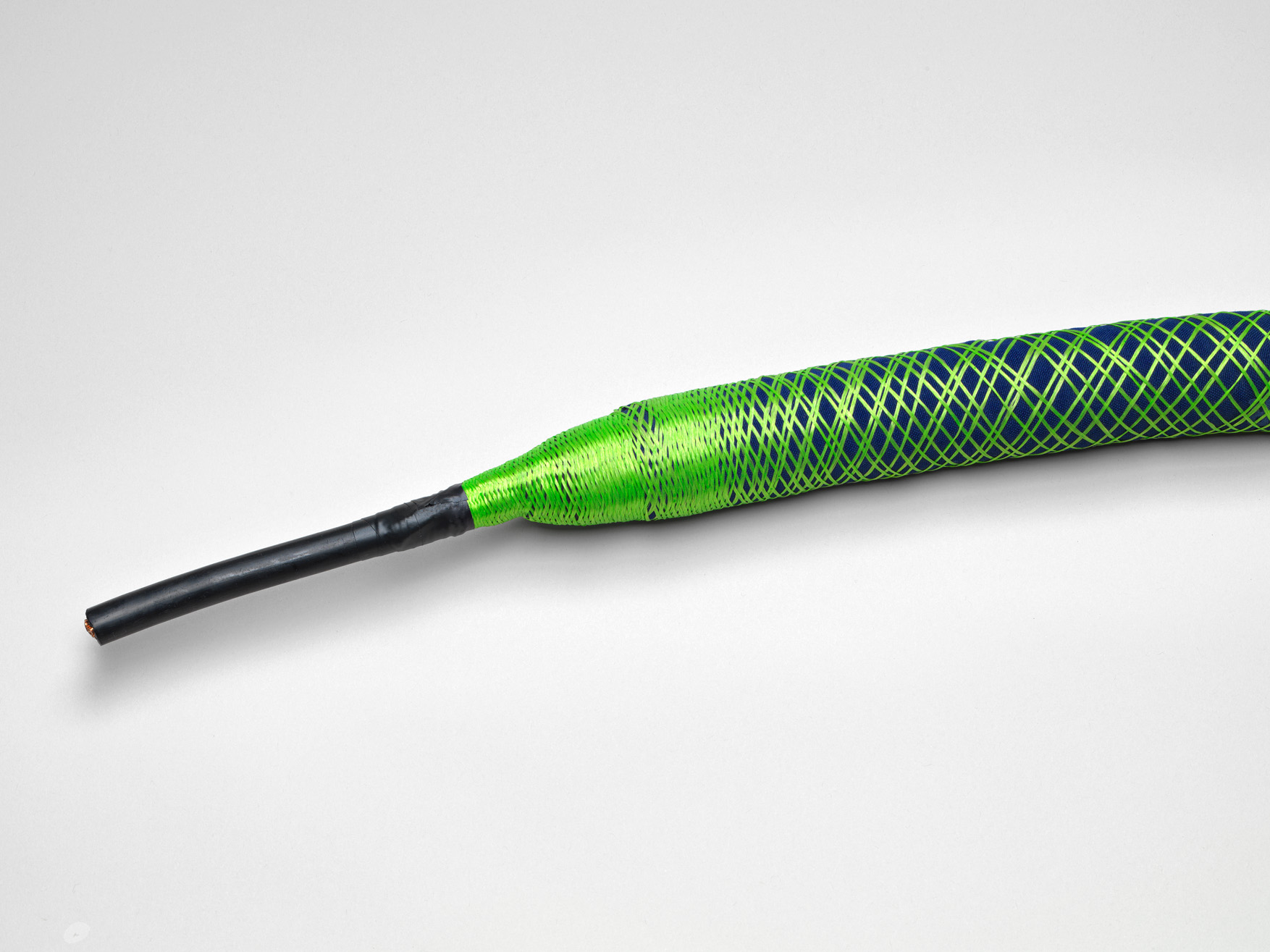 The Mitigator is the industry's only engineered AC mitigation system to combat the corrosive effects of alternating current (AC) on pipelines, combining performance with greater ease of installation and lower cost. Providing superior performance over bare copper and zinc for AC grounding and mitigation, this system is based on MATCOR's SPL™-Anode manufacturing technology. It is a packaged grounding system that combines the best of copper grounding with low resistance, corrosion-inhibiting backfill.
The Mitigator utilizes a multi-strand copper cable, encased in low resistance backfill with corrosion inhibitors, and then encased in a tough fabric sleeve wrapped with MATCOR braiding for greater strength. The system is provided in standard 500 and 1,000 ft. lengths. See the specification chart for additional information.
Product Benefits
Complete, low electrical resistance package; ready to install
433% more surface area than bare 2/0 copper
Performs better than bare copper
Download the independent report: The MITIGATOR vs. bare copper and zinc ribbon anode

»
19 stranding for better flexibility
Better conductor than zinc; will not passivate
Corrosion inhibitors for increased life of system
Excellent earth contact
Easy to splice
Machine made in MATCOR's USA manufacturing facility, ISO 9001:2015 certified
Contact a Corrosion Expert
The Mitigator AC Mitigation System Components
Engineering Drawing

»
The MITIGATOR is a ready to install AC mitigation system that includes:
Continuous stranded copper conductor for the length ordered
Low resistance, machine compacted backfill with copper corrosion inhibitors
Durable, non-degrading fabric wrap
Color-coded outer braiding for easy identification of the grounding system
Shipped on a reel for easy installation
The MITIGATOR AC Mitigation System Design
The Mitigator can be easily customized for your continuous grounding system requirements. For most applications, standard AWG No. 2 internal copper cable is sufficient. When packaged in MATCOR's backfill and housing, cable performance is greatly enhanced.
Contact MATCOR engineering for additional help or for total project design. If the previous use has been zinc ribbon, see the specification chart for Mitigator replacement sizes.
The MITIGATOR AC Mitigation System Installation

The Mitigator can be installed several ways, including horizontal directional drilling (HDD), cable plow and trenching. This is a tough product that can be buried directly in the soil without additional special backfill. When installing the via HDD, MATCOR recommends using the AWG No. 1/0 continuous copper cable for greater strength.
Specifying and Ordering The MITIGATOR AC Mitigation System
Simply specify the length and internal copper cable size when you order. Also available from MATCOR are solid state decouplers, connecting cables, junction boxes, reference electrodes and test stations. MATCOR engineering is ready to assist with your design and product selections.
Download the independent report: The MITIGATOR vs. bare copper and zinc ribbon anode

»
The MITIGATOR AC Mitigation System Specifications
Diameter
1.5 inches (38.1 mm)
Weight
1.1 lbs/linear foot(0.50 kg)
Internal Copper Conductor
Continuous copper cable
AWG No. 2 Replaces Plus Zinc ribbon
AWG No. 1/0 Replaces Super Zinc ribbon
AWG No. 6 Replaces standard zinc ribbon

Standard Reel Sizes
500 & 1,000 feet
(152.4 M & 304.8 M)
Resistance to earth of 500 ft. segment
Resistance to earth of 500 ft. segment
Outer fabric wrap
Sealed, porous, non-degrading acid reducing fabric
Heavy Duty Braiding
Machine applied assures compact & durable product, color coded for easy identification
Backfill
Special backfill with copper corrosion inhibitors for long life
MATCOR's mission is to solve your corrosion problems. In addition to our broad range of proprietary corrosion prevention products, we are ready to assist with your corrosion engineering and field service needs, including design, manufacturing, installation, commissioning and ongoing maintenance, as well as full turnkey solutions.
---
To get in touch with our team of corrosion experts for more information, to ask a question or get a quote, please click below. We will respond by phone or email within 24 hours. For immediate assistance, please call +1-215-348-2974.
Contact a Corrosion Expert
---
Related Content