Zinc reference electrodes have the longest life of any of the permanent type reference electrodes. We use hi-pure zinc to assure consistent quality and a constant conversion factor of -1.1v to CuSO4. MATCOR zinc reference electrodes are suitable for underground cathodic protection applications: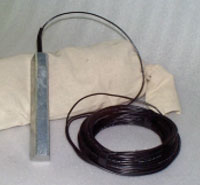 Underground Zinc Reference Electrodes
Packaged in prepared backfill to maintain stability.
Size: 10-inch diameter x 24 inches long
Weight: 25 pounds
Model code: PRC-ZN-UG
Please contact MATCOR for additional information about zinc reference electrodes.