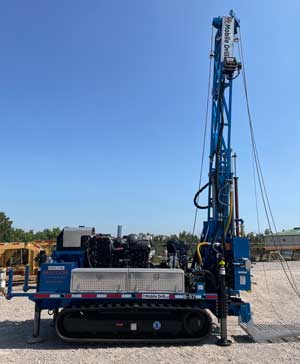 MATCOR is excited to announce the acquisition of a new drill rig to our existing fleet of HDD and vertical drill rigs.
Our newest rig is designed to be a cost-effective option for drilling shallow holes. The rig features a much smaller footprint than the conventional deep anode drill rigs used for installing Durammo® and other deep anode systems.
Drill Rig Features
The smaller and more agile auger rig allows MATCOR to be able to maneuver the rig in tighter areas than the full-scale vertical rig would allow. Additionally, the unit is available with a hollow stem drill pipe allowing us to lower anodes in place in environments where an open hole may not be feasible. The rig is capable of drilling holes down to 100 feet deep, but for hollow stem purposes, we are limited to a depth of only 50 feet.
What This Means for Our Future
MATCOR is excited to add this new rig to our industry-leading inventory of cathodic protection installation enabling us to better compete for:
Shallow conventional anode beds
Distributive anode beds around tanks and congested facilities
Mobility is increased since it is loaded on to a semi-trailer
---
For more information, please contact us at the link below, or reach out to your local MATCOR account manager.
Contact a Corrosion Expert