What is leak detection and repair (LDAR)?
Leak Detection and Repair (LDAR) Programs are put in place to monitor process equipment leaks for fugitive emissions in the petrochemical industry. Solid LDAR programs are critical in controlling fugitive emissions of VOCs, or volatile organic compounds, that cause pollution and safety risks for facility workers and operators, and the environment.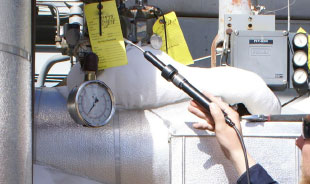 Maintaining refinery process equipment through an LDAR program mitigates these risks. Utilizing leak detection equipment to identify equipment leaks and then repairing those leaks in a timely manner enables operators to prevent most most fugitive emissions occurrences. In addition, successful leak detection and repair programs prevent product loss that impacts facility efficiencies and economics, the health and safety of workers, and the environment.
The article reviews fugitive emissions regulations and lays out a 5-step plan to build LDAR programs that accurately represent your project requirements.
Leak Detection and Repair Program Steps
Step 1: Develop Your Standard Operating Procedures
The first step in developing a successful leak detection and repair program is a cooperative endeavor between you and an LDAR expert to complete, approve and adopt your standard operating procedures (SOP).
Step 2: Laws Governing Your LDAR Program
In the second step, your LDAR team will research and share comprehensive knowledge of the permits, regulation(s), consolidation agreements, consent decrees, permit(s), and/or binding agreements governing your facility's LDAR program.
Step 3: Your LDAR Unit Equipment Information Packet
In step three, your team will set up a database of regulations for each unit in your facility. The LDAR team funnels, filters, and identifies congestion overlap and applicable LDAR regulations of varying stringency into a condensed table called a Unit Equipment Information Packet. This is a comprehensive knowledge base for all who need to know more about the LDAR program on a unit-by-unit basis at the subject facility.
Step 4: Facility Process Flow Diagrams
In the fourth step, the LDAR team obtains your facility's process flow diagrams (PFD's), piping and instrument diagrams (P&ID's), the P&ID abbreviations key, material balance sheets, and stream speciation data from the appropriate contact identified in your SOP in Step 1. Smart software is then utilized to highlight or color-code the P&ID's according to stream state and service. Then the field review begins.
Step 5: Component Inventory Database and Monitoring
In the fifth step, detailed data is collected on a daily basis for affected components. The LDAR team reviews all affected components for accuracy and compliance, and perform necessary correction. All corrections are updated in the database. Monitoring commences as scheduled according to the applicable regulation set up in your LDAR Unit Equipment Information Packet in Step 2. Finally, we initiate a monthly QA/QC process to ensure ongoing compliance.
Many regulations and a lot of detailed data are involved in designing a best-in-class LDAR program to ensure regulatory compliance when it comes to fugitive emissions. It is critical to review all data reports with your facility's operations and environmental department for understanding and acknowledgement of completion and ongoing compliance.
---
Why BrandSafway for LDAR Solutions?
BrandSafway offers 150 years of management experience, cutting-edge technology and a highly effective data management system to ensure successful LDAR programs and more, while ensuring regulatory compliance with USEPA Method 21 and other mandated requirements for VOC monitoring.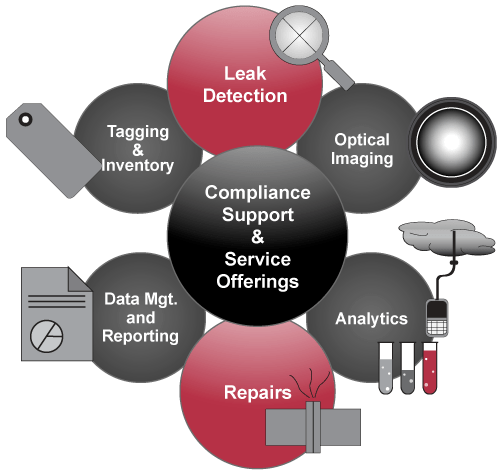 Learn about comprehensive LDAR Solutions from Brandsafway
MATCOR and BrandSafway are committed to being a valuable partner, providing a one-stop resource for industrial work solutions. By bringing together our expertise in both midstream and specialty services, we can better integrate and streamline asset and equipment management solutions for our customers in both the oil & gas and power markets.
Please click the link below to contact us if you have any questions about leak detection and repair, or if you'd like a quote for LDAR services.
Contact a Corrosion Expert