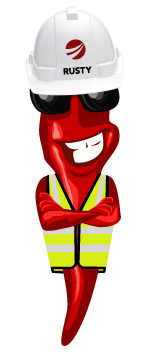 RUSTY Talks to Michael Grace, Vice President of JA Electronics
MATCOR is excited to welcome JA Electronics to the BrandSafway family, bringing decades of expertise and a range of cathodic protection rectifiers and other CP accessories to MATCOR customers.
We recently sat down with JA Electronics' VP Michael Grace for this informative interview.
RUSTY: Michael, first off, welcome to the BrandSafway family – what do you think of your new logo?
MICHAEL: JA Electronics has a long and proud history of servicing the Cathodic Protection industry dating back to 1980. BrandSafway's acquisition of the company marks a new and exciting chapter in that history.

The new logo is a great way to reflect on our past and look forward to our future as part of BrandSafway's growing set of Corrosion and Integrity businesses. We are very excited about the opportunities ahead of us.
RUSTY: Other than a new logo, what big changes do you see coming for JA Electronics?
MICHAEL: Let's start by saying what is not going to change—we are going to continue to supply the highest quality rectifiers on the market and do so at very competitive rates. JA Electronics has earned its reputation of providing rectifiers that are built to perform for the long haul. We are not changing our manufacturing team—our rectifiers are proudly built in Stafford, Texas by a team of experienced and dedicated rectifier assembly professionals. Another thing that will not change is our customer service. We stand behind our products and provide world class technical support.

What will change is our relationship with MATCOR. As a fellow BrandSafway company, MATCOR and JA Electronics will be actively looking at ways to partner our products and services. MATCOR, like JA Electronics, is an established name in the cathodic protection industry with a reputation for outstanding products and a long history of innovation. We expect to see collaboration with MATCOR on marketing efforts, shared R&D initiatives, and a closer pairing of our offerings to our customers to add greater value.
RUSTY: What makes JA Electronics a great value proposition?
MICHAEL: JA Electronics' rectifiers are highly respected in the marketplace for their quality and reliability, a reputation that we have earned over the past 40 years.

Our conservative design basis sets us apart from other rectifier manufacturers. Our transformers, bridge stacks and wiring assemblies are all designed with a 20% safety factor. There are other features and material selection choices that we make to further enhance the reliability of our rectifiers. These design choices result in a higher quality product and allow us to offer a 2 year standard warranty, when most of our competitors limit their warranty to 1 year.
RUSTY: Are JA Rectifiers priced at a premium relative to other rectifiers in the market?
MICHAEL: There is a perception with some in our industry that JA Rectifiers are higher-end rectifiers and cost more than other brands. But the reality is that our rectifiers are cost-competitive with other suppliers even with the great value that we offer. Give JA Electronics a shot—we think you will be surprised at our competitiveness with other rectifier suppliers.
RUSTY: Why are aluminum enclosures better for cathodic protection rectifiers? What's wrong with galvanized steel?
MICHAEL: Well, there is nothing wrong with galvanized steel enclosures. They're just not as good as the aluminum enclosures that JA Electronics supplies. We prefer aluminum for its lightweight, anti-corrosive and thermal conductivity properties; whereas galvanized steel is significantly heavier, typically more expensive and does not provide the same level of corrosion resistance in outdoor installations that aluminum offers. The weight savings translates into reduced shipping costs and easier handling during installation. The aluminum enclosures we provide will never rust as aluminum will naturally react with the environment to create a thin oxidizing layer that protects the enclosure. We consider aluminum to be the superior enclosure material.
RUSTY: Is there anything we did not cover that the MATCOR customers might find useful to know about JA Electronics?
MICHAEL: We have a QuickTurn program that covers some of our most common sizes of rectifiers, and we will be looking to expand on this program working with MATCOR to better serve our customers' needs.