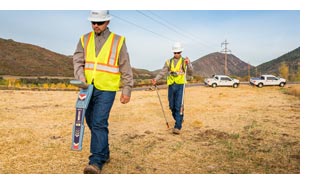 When you work with MATCOR, you can expect a team that is dedicated to solving corrosion problems while adhering to core values including honesty, respect and commitment. We're dedicated to providing you with the world's leading corrosion engineering services and products, backed by responsive customer support.
We're here to help
We're committed to developing a deep body of expertise with curious, highly motivated individuals and our employees attend continuous training. We are always available to help. We design, engineer and manufacture many of the industry's leading products, in addition to providing a full range of services to combat your corrosion problems.
At MATCOR, we genuinely care for our customers and the projects we work with, demonstrated by our rich, 40+ year heritage and loyal customer base.
Designed to last
All of MATCOR's products and systems are designed for a long, productive life. Our engineers spend countless hours ensuring that each product is precisely built — inside and out. From the initial raw component selection to the exterior finish and shipping containers, every detail matters. We invest heavily in product development, so you can be assured our corrosion prevention solutions are loaded with the latest technology advancements to meet the strictest requirements. In addition, we often develop custom solutions to meet specific customer requirements.
Flexibility
Our flexible manufacturing and service processes are well positioned to offer quick turnarounds. We manufacture MATCOR products in our Chalfont, Pennsylvania ISO 9001:2015 facility, where we tailor our products to fit your unique needs while meeting the tightest of deadlines.
Qualifications
MATCOR's operations have been evaluated and approved through several contractor management systems (CMS).  Regardless of which CMS you use, we participate to ensure that we meet your expectations and requirements for contracted services that support facility safety, process safety and personal safety goals. The systems evaluate contractors to determine selection, acquisition, use and monitoring of contracted services.
MATCOR participates in the following contractor management systems:
More about MATCOR, Inc.
Contact a Corrosion Expert