What is Kynex?
Kynex is the waterproof sealing of mixed metal oxide (MMO) anode to cable connections made in MATCOR's manufacturing facility. The MMO anode to cable connection is made with high pressure hydraulic tooling. The mechanical connection is then inserted into one of MATCOR's high pressure injection molding machines, and computer controlled equipment completes the manufacturing process.
Patented, Waterproof Anode to Cable Connection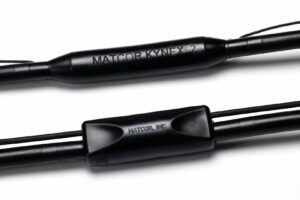 Patented Kynex technology produces a revolutionary, factory made, injection-molded anode to cable connection. It is 100% waterproof, eliminating the risk of anode to cable failure and ensuring decades of reliability. Prior to the introduction of this proprietary technology, connections were made by hand and depended on the skill of the individual to make the seal waterproof and mechanically strong. Made in MATCOR's climate-controlled ISO 9001:2015 manufacturing facility, Kynex provides a waterproof seal not available anywhere else.
Kynex Anode to Cable Connection Technology Benefits
100% waterproof seal to protect the electrical connections
The connection sealing material and cable insulation are manufactured into a single unit
Stronger mechanical protection of the connection than heat shrink materials or other manual sealing procedures
Contact a Corrosion Expert
Where is Kynex Used?
Used in MATCOR's proprietary SPL™-Anode Series impressed current linear anodes and the Durammo® Deep Anode System, Kynex connection technology provides unmatched protection for the critical connections in cathodic protection systems.
Why trust your cathodic protection system to anything else?
MATCOR's mission is to solve your corrosion problems. In addition to our broad range of proprietary corrosion prevention products, we are ready to assist with your corrosion engineering and field service needs, including design, manufacturing, installation, commissioning and ongoing maintenance, as well as full turnkey solutions.
To get in touch with our team of corrosion experts for more information, to ask a question or get a quote, please click below. We will respond by phone or email within 24 hours. For immediate assistance, please call +1-215-348-2974.
Contact a Corrosion Expert