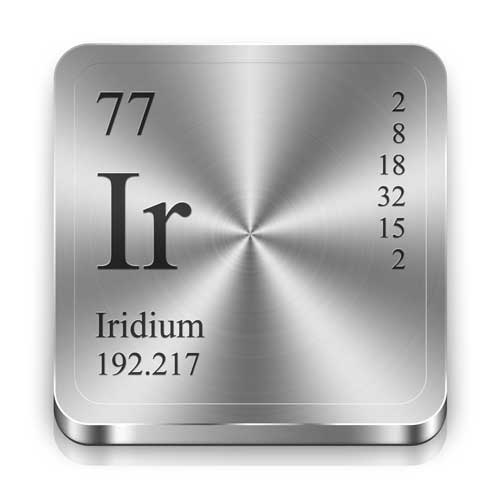 Surging Iridium prices have shocked the cathodic protection industry. We have put together the following FAQs to explain what iridium is and how it is used in cathodic protection materials.
What is Iridium?
Iridium is a rare earth metal that is, as the name implies, quite rare. It is considered part of the Platinum Group of metals as it is found as a trace element in the extraction of platinum. It is the second densest, and the most highly corrosion-resistant of all metals.
How is iridium used in cathodic protection?
It is the primary active element for all Mixed Metal Oxide (MMO) anode coatings used in oxygenated environments which include coke, soil, mud, fresh water – basically anything but seawater which is a chlorinated environment.
How expensive is iridium?
Up until a few weeks ago, Iridium prices were generally stable throughout 2020 in the range of $1500 to $1700 per ounce. In mid-December the price of Iridium skyrocketed over 200% in the space of a few short weeks. This hyperinflation in the cost of Iridium has caught the CP industry by surprise, and MMO anode suppliers are being forced to dramatically raise prices because of the significant additional costs of Iridium Oxide used as the active catalytic element.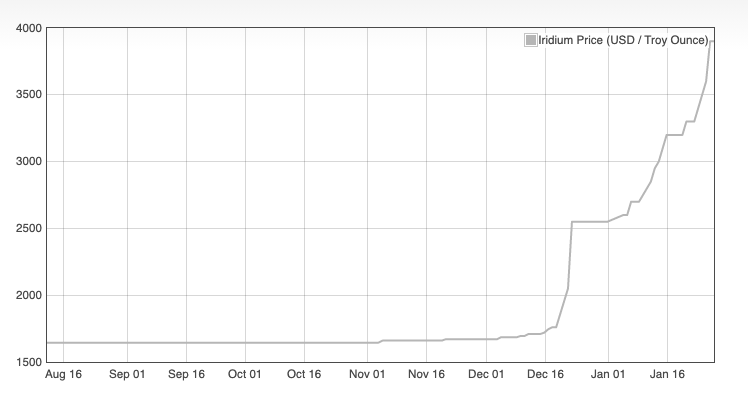 SOURCE: dailymetalprice.com
Why is the price of iridium skyrocketing?
There are a couple of factors that have created this pricing crisis. First, most of the world's Iridium comes from a few Platinum mines in South Africa, and with the global pandemic having recently hit South Africa very hard with a new and more virulent strain of Covid-19, the mining output has diminished significantly. We hope this is a short-term supply issue. The second factor has to do with the European Union announcing a major investment in Hydrogen as a green fuel for electrical generation. A new membrane technology (PEM) uses iridium as a catalyst to generate hydrogen. The announcement led to several speculators buying up Iridium supplies and driving the price up.
What happens next and how long will this last?
It is impossible to predict how high the price of Iridium will rise before reaching a peak, how long the pricing remains at these elevated levels, and what the stable price in the future might be for Iridium. What is certain is that the supply of Iridium will adjust as the mines in South Africa go back to production and as the elevated price leads to more supply being developed to meet the demand. Historically the supply of Iridium has always been available to meet the demand and when that equilibrium is restored, we can expect the price to drop and stabilize.
What is MATCOR doing to address this issue?
MATCOR is applying a surcharge on all MMO Anode products effective February 1st. We will continue to monitor the MMO situation and work with our suppliers to maintain our supplies and contain our costs as best we can. We hope that this is a temporary situation that will resolve itself in the next several months.
Are there alternatives for cathodic protection that do not utilize iridium?
We still believe that MMO anodes remain the best anode material when considering the outstanding track record of this anode, its dimensionally stable properties, and its long service life. However, MATCOR can also supply conventional anodes including high silicon cast iron and graphite anodes. We are also evaluating Platinum anodes which were the original dimensionally stable catalytic anode before the advent of MMO, although platinum has its limitations and is simply not as robust an anode material.
If you have further questions please feel free to contact your local MATCOR sales representative or visit our website and submit your question there
Effect on MATCOR MMO Anode Pricing

»
If you have further questions please feel free to contact your local MATCOR sales representative or submit your question below.
Have a question not answered here?