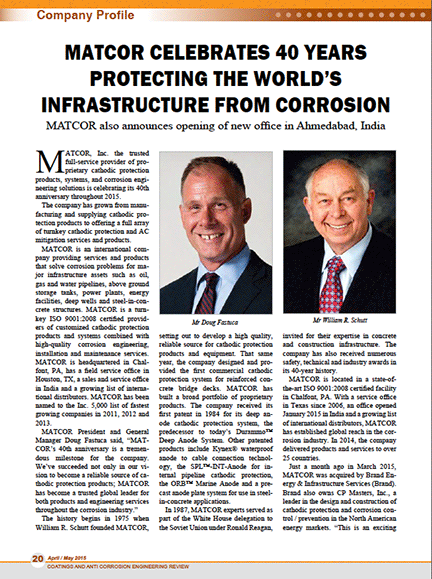 Thank you to Abraham Mathai at Coatings and Anti Corrosion Engineering Review for the profile about MATCOR and our 40th anniversary in the April/May 2015 issue!
MATCOR was founded in 1975 by William R. Schutt when he set out to develop a high quality, reliable source for cathodic protection products and equipment. The company designed and provided the first commercial cathodic protection system for reinforced concrete bridge decks that same year. The company has grown to offer a broad portfolio of proprietary cathodic protection and AC mitigation products, in addition to complete corrosion engineering services.
In March of 2015, MATCOR was acquired by Brand Energy & Infrastructure Services (Brand). Brand also owns CP Masters, Inc., a leader in the design and construction of cathodic protection and corrosion control prevention in the North American energy markets.