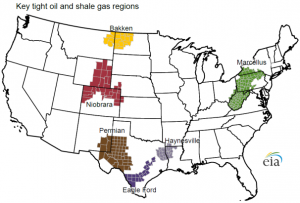 In a recent update to its drilling productivity energy report, the Energy Information Agency revealed that there are now three US oil fields that are producing more than one million barrels of oil a day (BPD). In North Dakota, the Bakken Shale has been a major economic boon for the region while in Texas the Permian Basin and Eagle Ford Shale have both exceeded predictions. As oil and natural gas continues to expand in these regions, the need for cathodic protection systems to prevent corrosion grows.
The three fields are so prolific that they now account for at least a third of the total US daily oil production. In fact, Mark Perry of the American Enterprise Institute found that the output of the three combined fields now surpasses 4 million BPD.
Each of these regions has seen rapid growth that is nearly unprecedented in the United States. The Bakken oil production was less than 200,000 barrels per day in 2008 and is now producing around 1,100,000, an increase of 450% in just over five years.
Meanwhile, in Texas, Eagle Ford's natural gas production has tripled in the last three years and oil production has also flourished in recent years. The region was producing less 100,000 BPD in 2010 to more than 1,400,000 BPD in 2014.
Finally, wells that had been previously drilled in the Permian zones have found new life with the development of horizontal drilling techniques. Historically, wells had a 34 percent recovery rate, but that benchmark is being challenged with new technologies.
"This Energy Information Agency report is yet another reminder that oil and gas production in the United States will continue to flourish in the years to come," said Chris Sheldon, utilities practice lead at MATCOR. "With such rapid growth, however, it's vital that infrastructure is built to accommodate the changes. That means building it fast, but also building it right."
"Cathodic protection systems, like those produced by MATCOR, ensure the safety of oil and natural gas production and delivery assets."
Learn More About Cathodic Protection Systems
MATCOR is a corrosion prevention firm that engineers, manufactures, installs, commissions and maintains a proven range of turnkey proprietary cathodic protection and AC mitigation systems worldwide for the oil & gas, power, water/wastewater and other infrastructures industries.
Contact a MATCOR corrosion expert by completing our contact form or calling +1-215-348-2974.
"Elite oil fields redefine meaning of crude's 'Big Three'," CNBC, July 27, 2014.