This article describes the components of a cathodic protection rectifier, and when to use oil cooled cathodic protection transformer rectifiers vs. air cooled rectifiers.
When it comes to cathodic protection power supplies, conventional transformer rectifier circuits have long been employed by the cathodic protection industry for impressed current CP systems. These power supplies (commonly referred to as rectifiers in the CP world) consist of three main components; the transformer, the rectification stack, and a cabinet to house these components. The transformer takes the input AC voltage on the primary side and controls the output AC voltage on the secondary side. The rectification stack, typically silicon diode stacks which have largely replaced older less efficient selenium stacks, convert the AC input wave form into a DC wave form by cycling the AC flows in one direction and blocking in the other. Additional components typically include circuit breakers, fuses, voltage and current output meters, lightning arrestors, surge suppressors, transformer tap bars, and monitoring systems.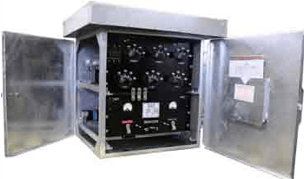 The majority of these Rectifiers are housed in air-cooled NEMA 3R enclosures – these enclosures are typically constructed of hot dipped galvanized steel, aluminum, stainless steel or painted steel. NEMA 3R enclosures are intended for outdoor use. They provide a degree of protection against falling rain and ice formation but are not completely water tight or weather proof and could be subjected to beating rain or streams of water, under certain conditions, entering the enclosure. This is the most common type of rectifier enclosure in the industry.
When and Where to Use Oil Cooled Cathodic Protection Transformer Rectifiers
---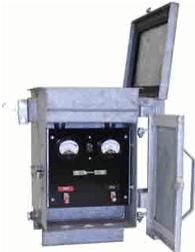 For some applications; however, the use of air cooled NEMA 3R enclosures is not recommended or not suitable. The three most common reasons not to use air-cooled NEMA 3R enclosures are:
Rectifier transformer size is too large to support an air cooled enclosure. For a small percentage of impressed current CP systems where the power requirements (measured in DC Watts) are sufficiently high that the cooling capacity of the enclosure is insufficient for the heat generated by the transformer (typically anything more than 12kW for single phase and 18kW for three phase.)
Severe environment locations where high humidity, dust or other situations could shorten the life of a standard air cooled rectifier. Marine and near shore applications often fall into this category.
The enclosure must be in a hazardous classified location requiring Class 1 Div. 2, Group D compliant enclosure – commonly referred to as Explosion Proof.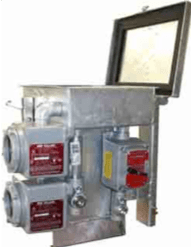 For these applications, oil cooled cathodic protection transformer rectifiers are typically specified. As implied in the name, the oil cooled rectifier utilizes an enclosure that has a sealed reservoir which houses the transformer and transformer tap bars and is filled with a special transformer oil. The transformer oil provides better heat transfer and dissipation and the larger case facilitates improved heat removal.
It is very important to note that standard oil cooled rectifiers are NOT explosion proof. For an oil cooled rectifier to be considered Explosion Proof, the components that are not immersed in the transformer oil reservoir must be housed in special Explosion Proof fixtures. Simply specifying oil cooled when ordering a rectifier does not satisfy the requirements for locating the rectifier in a hazardous Class 1 Div.2 location without also including the additional provisions required for the explosion proof fittings.
---
To get in touch with our team of cathodic protection experts for more information, to ask a question or get a quote for cathodic protection materials or related construction services, please click below. We will respond by phone or email within 24 hours. For immediate assistance, please call +1-215-348-2974.
Contact a Corrosion Expert