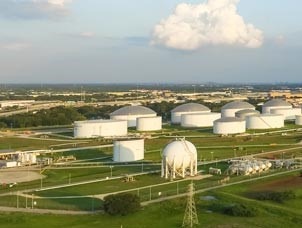 Evan Savant, EnLink Midstream reached out to the MATCOR Technical Team asking about AST cathodic protection system tank isolation:
"Can you advise on the importance of isolation for a new AST connected to a Pipeline, and can you advise on the need to isolate the tank cathodic protection from the tank grounding?
MATCOR's Director of Engineering, Kevin Groll PE, NACE CP4 responded:
I am unaware of any papers or technical documents on the subject, but I will summarize as follows:
Why can a lack of isolation hurt your cathodic protection?
When trying to protect any type of structure from corrosion, cathodic current loss to nearby structures is always a concern. Losses can occur when the structure in question is directly bonded to other structures which may "steal" current. Offending metal structures that are close to the cathodic protection anode and structures with better resistance to earth (e.g., bare copper grounding, bare driven piles, etc.) will more likely take a significant amount of current.
How do you obtain isolation without losing overvoltage protection?
To prevent current loss, your target structure must be electrically isolated from the offending structures.  However, once you isolate a structure, you will lose grounding (if it was purposefully grounded) and you will lose protection against overvoltage events, AC faults, and lightning strikes.  Therefore, to obtain DC isolation but maintain AC continuity and overvoltage continuity, we use solid state decouplers (SSDs) and polarization cell replacements (PCRs). The primary difference between these devices is how much surge current they will carry.
Tank cathodic protection design considerations.
When we design an under-tank CP system with concentric rings, we assume that we will not have isolation from grounding and facility piping, and we also assume that most of the current will get to the tank bottom because of the proximity of the anodes.  This is not always the case, as we saw in a recent project, but for the most part concentric ring systems can be powered high enough to overcome the lack of isolation.
Horizontal directional drilling installed linear systems show approximately 1.5 to 2 times as much current is required as a concentric ring system due to current losses.  Again, we usually factor in enough current capacity to overcome these losses.
Deep anode systems and semi-deep anode systems suffer the worst losses. These systems will sometimes require isolation of the tanks to prevent critical current loss.  If a system is already in place, testing can be performed to determine how much loss there is to existing structures by measuring the current returned on ground rods and pipes. This is accomplished by using clamp-on current meters around wires/rods and Swain meters around pipes.
It is important to note that tank terminal isolation and grounding are factors in these complex tank terminal applications that must be considered in the proper design of Cathodic Protection.  MATCOR's experienced team of engineers can evaluate your specific application and make the appropriate recommendations.
---
To get in touch with our team of cathodic protection experts for more information, to ask a question or get a quote, please click below. We will respond by phone or email within 24 hours. For immediate assistance, please call +1-215-348-2974.
Contact a Corrosion Expert