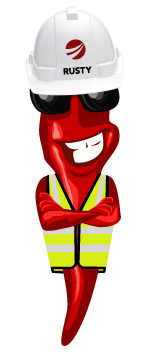 June is National Safety Month, established in 1996 by the National Safety Council.
To honor this critical program, Rusty reached out to Zachary Seese, MATCOR's Safety Manager, to talk about the safety programs in place at MATCOR.
Zac, thanks for joining us for this safety Q&A. Let's start by asking the big question, what are MATCOR's Safety Goals?
At MATCOR, our employees are the most important aspect of our business. Therefore, we are dedicated to providing a work experience that is always free from exposed hazards.

"Goal Zero" is the milestone we wish to achieve at all MATCOR work sites. In order to achieve zero injuries, we must identify remove hazards. To accomplish this, we utilize multiple safety methodologies.
How do you go about identifying and removing hazards in the work environment?
Behavior Based Safety (BBS) is one of the primary programs MATCOR employees and management participate in to communicate jobsite hazards and to audit jobsite conditions.

BBS involves active participation in three programs:

1) BrandSafway's Employee Intervention System (EIS)
All MATCOR employees are encouraged to use the EIS program to document hazards experienced in the workplace and to share how they were mitigated. MATCOR employees also utilize the EIS program to document Good Catches and to make recommendations on how to improve processes.

2) Supervisor Observation System (SOS)
All field level supervisors complete SOS's when they visit jobsites. Supervisor Observations is an audit tool which engages supervisors with our employees to assure that they are complying with MATCOR/BrandSafway EHS expectations.

3) Management Safety Review (MSR)
Top level supervisors including EHS Managers, Project Managers, Regional and Area Managers and above complete MSR's as an upper level audit tool to ensure that all field employees and field supervisors are complying with MATCOR/BrandSafway EHS expectations.

These three programs are the cornerstone of our safety program, and everyone is responsible for identifying and removing hazards in the workplace.
What if an employee sees a hazardous situation?
Stop Work is the most important tool an employee at MATCOR possesses.

Any employee can stop any job at any time when they recognize a hazard. It is that simple – if something appears wrong our employees are required to Stop Work. In addition, all MATCOR employees and supervisors are trained to support stop work and to not retaliate against any employee who does so.

We recently received recognition from one of our customers for our proactive use of stop work. While completing close interval survey work, an employee began to show possible signs of heat exhaustion and their supervisor observed the symptoms. The supervisor immediately made the decision to stop the job for the day and give the employee an opportunity to recover. The near hit/stop work was reported and documented. The following week, one of the customer's corporate officers commended the MATCOR supervisor's use of stop work and described how those actions align with their safety expectations as well.
How important is training to maintaining a workplace environment free of all hazards?
Training is critical to our safety programs. And since our Behavioral Based Safety involves all levels of the organization, we have developed extensive safety training programs to engage our entire organization.

MATCOR training provides our employees with the knowledge they require to perform their tasks in a safe manner. In addition, it provides them with the ability to recognize hazards and the knowledge about how to react and report them.

We provide instructor- and computer-based training, competency training and hands-on assessments.
What are some examples of the safety training MATCOR provides to its employees?

The following list contains some examples (not all) of the trainings MATCOR provides its employees:

Computer-Based Training
New employee orientation (including our Life Saving Rules)
Code of Conduct
Stop Work Obligation
Distracted Driver
Defensive Driving
HAZCOM/GHS
Confined Space
Lockout/Tagout

Instructor-Led Training
Fall Protection
NSC Basic Orientation Plus
PEC Basic Orientation
PEC H2S Clear
Incident Reporting

Competency/Hands-on Assessments
Task-Specific Operator Qualifications (in house and third party)
Forklift
Backhoe
Aerial lift

Our supervisors receive higher-level training to ensure they are able to teach and ensure compliance with EHS standards at all jobsites. These supervisor-specific trainings include but are not limited to:
EIS/SOS Program
Job Safety Planning
Fall Protection
Personal Risk Tolerance
Drug and Alcohol Awareness
Stop Work Obligation
Material Handling
Where does technology fit in to MATCOR Safety Programs?
One key technology component in our arsenal is the use of tracking equipment on our extensive fleet of construction equipment.

This equipment travels from jobsite to jobsite, and while being transported, they are subject to DOT regulations. We utilize Geotab Electronic Log Devices with GPS tracking on all company DOT regulated vehicles. GPS tracking enables us to comply with DOT regulations, monitor for and correct adverse driving habits. It even allows us to locate and recover missing equipment, or to locate an employee who might be in danger with no communication.

Another key technology that is integral to our Behavior Based Safety system is our in-house Integrated Management System (IMS). The IMS allows us to track, collect, compile and perform data analytics on all of the collective reporting from our field personnel while performing observations. This data can be used to identify and focus on critical issues.
Thanks Zac, any last words on Safety?
One final comment – communication and continued improvement are necessary to ensure that our EHS program is successful. Our EHS department is engaged daily with all levels of our Operations to encourage active participation, and we know that it works. We can create a work environment that is free of hazards.
To get in touch with our team of cathodic protection experts for more information, to ask a question or get a quote for safe, industry leading products and service, please click below. We will respond by phone or email within 24 hours. For immediate assistance, please call +1-215-348-2974.
Contact a Corrosion Expert