MATCOR is pleased to announce that we have partnered with LineVision, a Massachusetts based technology company, to provide their innovative overhead transmission line monitoring technology to the pipeline industry as part of MATCOR's comprehensive suite of AC Interference and Monitoring services.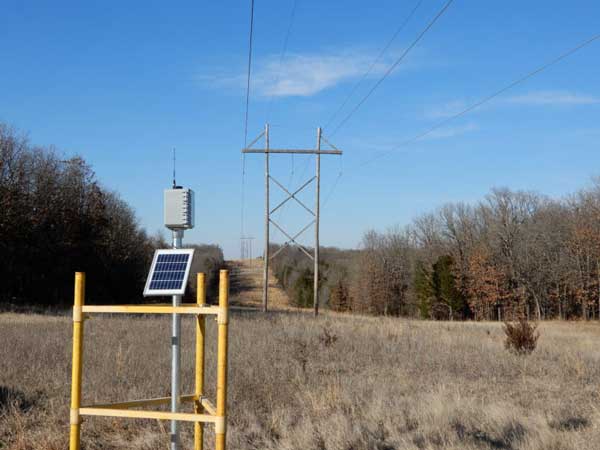 LineVision's PACT® (Pipeline AC Threats) system is a patented, self-contained, solar powered utility power line remote monitoring solution that provides pipeline operators with critical information regarding the operation of high voltage transmission lines owned by the power utility company. These innovative power line sensors provide critical data to operators without relying on the power company to provide it.
The ability to independently monitor critical transmission line information can greatly reduce the time required for modeling and eliminate any need for guesswork or assumptions when utility data is not readily available from the power company. Information obtained from the power line sensor includes:
• HVAC current being transmitted
• Phase order information
For AC Interference Modeling efforts, we can temporarily install this overhead line monitoring solution along the right-of-way (ROW) in strategic locations. This allows us to collect representative data over a period of time to provide the necessary inputs for the AC modeling software.
The LineVision PACT transmission line monitoring equipment can also be incorporated into your AC mitigation system monitoring program to provide information on the actual HVAC line usage. This is especially helpful when understanding how the line's power flow usage level varies—the PACT system provides alerts if the usage increases over time.
This information, combined with your AC Test station AC and DC current density data trends can help to provide a more accurate picture of your mitigation system's compliance with the AC mitigation criteria as detailed in NACE SP 21424-2018. This standard requires demonstrating that your system is mitigating to the required criteria level on a time averaged basis, and that it accounts for variations that could impact mitigation. Monitoring the AC transmission power flow is one of those variables.
---
Have questions about the LineVision PACT technology, or need a quote for AC mitigation services? Contact us at the link below. For immediate assistance, please call +1-215-348-2974.
Contact a Corrosion Expert