Are Vapor Corrosion Inhibitors Magic Dust or a Viable Corrosion Prevention Tool?
This article is intended to provide a basic primer on vapor corrosion inhibitors for use in corrosion prevention for above ground storage tanks and address where this technology stands.
There has been a significant effort within the oil and gas world to either promote or repudiate the use of vapor corrosion inhibitor technology (VCI) for tank bottom plate corrosion control. As a leader in the above ground storage tank corrosion control industry, MATCOR has partnered with Zerust® Oil & Gas to make VCI options available to our customers that are interested in applying this technology as part of their corrosion mitigation approach.
How Vapor Corrosion Inhibitors Work – Video Courtesy Zerust® Oil & Gas

What are vapor corrosion inhibitors and how do they prevent corrosion?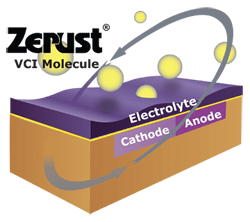 VCIs are chemical compounds that are released into a confined space, such as the underside of a tank bottom, and diffused through the sand pad material to reach the metal surface. These compounds are adsorbed onto the metal surface forming a strong bond that promotes and maintains a passive oxide layer on the metal and blocks other contaminant molecules from reaching the surface.
Are VCIs a non-permanent solution?
Corrosion protection using VCIs requires sufficient chemical concentration to thoroughly diffuse across the entire tank bottom surface area. The VCI has a finite life, after which it ceases to remain active. When this occurs, further chemical is required to replenish the spent VCI. The frequency of VCI replacement will vary depending a range of factors:
The rate of leakage through the tank chime
The operating temperature of the tank
The sand properties
The amount of chemical initially applied
Other factors
As VCI technology is still in the early phase of adoption, the typical replenishment frequency remains one of the big unknowns. A conservative estimate would be a minimum of 3-5 years' service life before replenishment although a least one source has reported upwards of 15 years of effectiveness.
How is VCI applied initially for above ground storage tanks?
There are a variety of application technologies depending on the application and whether the tank is new construction, existing tank during inspection, a tank that is in-service or a double floor tank. Other considerations include the substrate material or concrete pad. The VCI chemical can be provided in a powder or liquid form. Whatever system is utilized to deploy the VCI, consideration should be given to how it will be replenished over the life of the tank.
Can vapor corrosion inhibitor technology be used in lieu of cathodic protection?
Practically speaking, most tank operators are not looking to replace cathodic protection but are considering VCI as a supplement to cathodic protection or as a short-term solution for inadequate or depleted CP systems until a replacement CP system can be installed.
Can VCI be used as a complement to cathodic protection?
This is where VCI provides an exciting opportunity to supplement cathodic protection. While cathodic protection has a proven track record in corrosion prevention for tank bottoms, there are limits to the effectiveness of cathodic protection. Cathodic protection only works when the tank bottom is in intimate contact with the sand bottom. Localized corrosion can occur wherever there are air gaps under the tank bottom. These can occur due to flexing of the tank bottom, imperfections in the plate steel, lapping of the plate steel, poor compaction of the sand bottom, presence of aggregate or non-conductive materials such as asphalt or oil, and at crevices in the tank ring wall. These are all areas where cathodic protection may not be effective and the proper application of VCI would be an excellent means of providing corrosion protection in these localized areas. Cathodic protection and vapor corrosion inhibitors are symbiotic. CP current distribution has been shown to improve in the presence of VCI.
How do I monitor that the vapor corrosion inhibitor is working?
When applying VCI to a tank bottom, coupons, ER probes or UT probes installed under the tank are used to measure the effectiveness of the VCI and to alert the owner when the VCI requires replenishment. One of the concerns with using ER probes to measure corrosion rates under tanks is that ER probes provide an average corrosion rate and not localized pitting rates. It is understood that pitting corrosion is the dominant factor in tank bottom corrosion related failures and pitting rates can be significantly higher than average corrosion rates. There is a distinct correlation between average corrosion rates and pitting corrosion rates and the ER probes can be used to infer changes in the pitting rates.
Where do vapor corrosion inhibitors stand with industry standards and regulations?
According to API 651, there are several situations where CP is not recommended for specific tank foundation designs. In some of these designs, PHMSA recognizes that CP is not feasible.  In these cases, VCI can be a viable option. API 2610, the Tanks and Terminals standard outlines the use of VCI for tank bottoms in section 12.5. API 651, the CP standard, is being updated currently and VCI is being included as an option in this document. The State of Florida has identified that VCI can be used in tandem with CP or a standalone solution, for more than 6 years. NACE is currently working on publishing a standard "NACE TG543", which is a comprehensive document on the application of VCI under tank floors. PHMSA is currently reviewing Special Permit requests for the use of VCI without a functioning CP system. If a non-regulated tank's CP system is not meeting criteria, or has depleted, but the tank is still a few years from its next inspection, VCI can be applied to protect the floor until CP system repairs can be economically accomplished.
What independent published studies exist supporting VCI?
A 2018 study published by PRCI provides the strongest validation of the effectiveness of VCI and concluded that:
VCIs were found to be effective in mitigating pitting of steel exposed to corrosive sand but was not as effective as CP for reducing pitting corrosion. The study confirmed the importance of using the manufacturer's recommended concentrations, as low levels of VCI was found to be ineffective.
ER Probes can be used to monitor the efficacy of VCIs
VCIs are compatible with impressed current cathodic protection; however, VCIs change the native potential of the steel and this must be considered when selecting CP criteria in accordance with NACE SP0193
Access the full study: PR-015-153602-R01 Vapor Corrosion Inhibitors Effectiveness for Tank Bottom Plate Corrosion Control
In conclusion, the application of VCI is a viable tool in our corrosion tool box that should be considered in conjunction with cathodic protection for critical service applications and as a standalone solution in some applications.
---
To get in touch with our team of cathodic protection experts for more information, to ask a question or get a quote, please click below. We will respond by phone or email within 24 hours. For immediate assistance, please call +1-215-348-2974.
Contact a Corrosion Expert